10 Best Maternity Leggings for Every Activity and Workouts
This post may contain affiliate links which means I will get a commission if you make a purchase at no additional cost to you. As an Amazon Associate I earn from qualifying purchases. Please read my disclosure for details.
Honestly, if I had to do the "whole pregnancy" thing again, these are some of the best maternity leggings I'd reach for.
Finding pregnancy clothing that fits and suits your body shape can be hard. Your body is constantly changing, and it is hard to keep up.
I remember avoiding maternity clothes for as long as I could until I got to the point where something had to give.
So, I recommend purchasing maternity leggings as these are comfortable and stretchy. They will adjust to the size of your bump and remain fitting correctly throughout your pregnancy.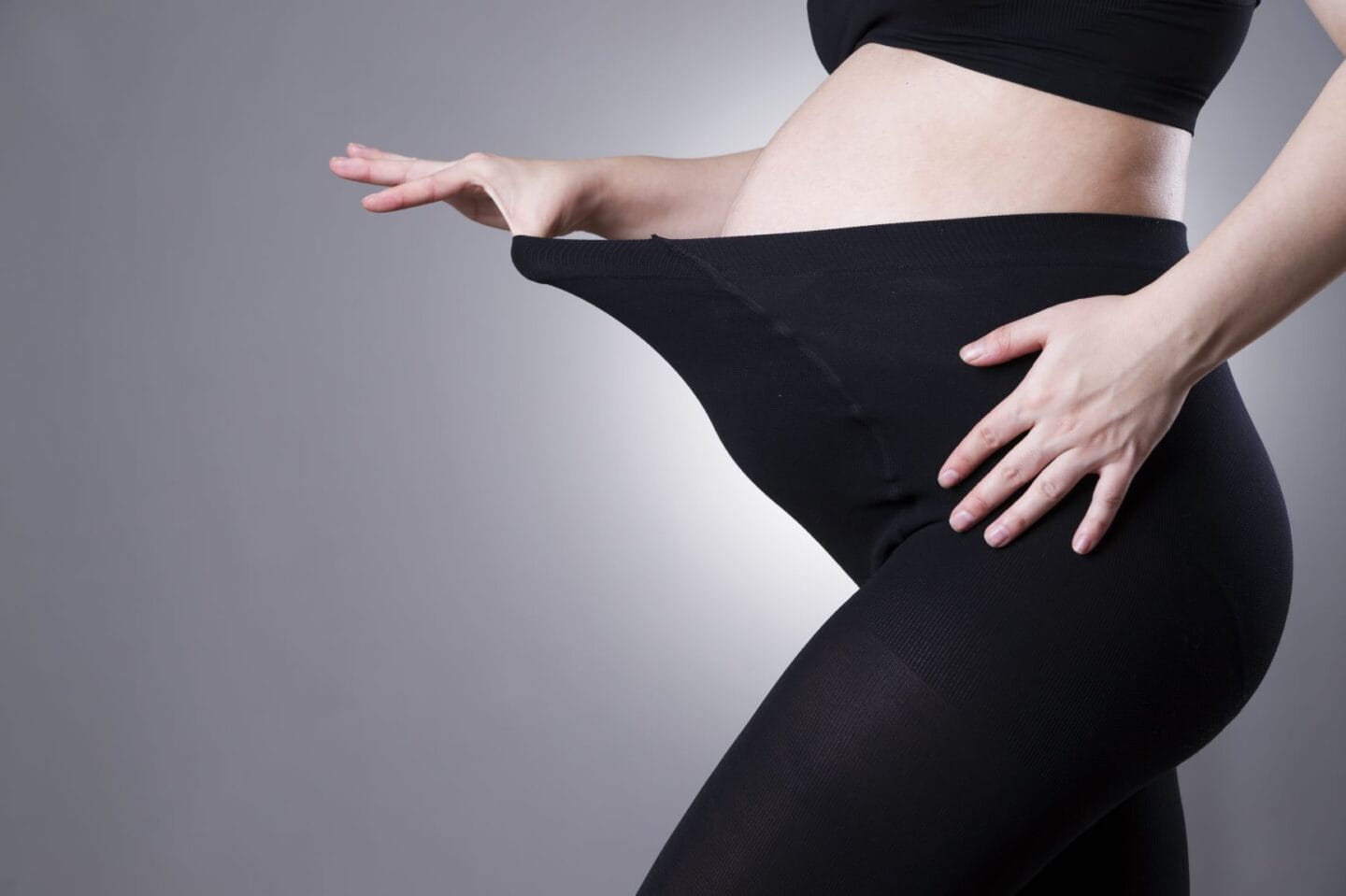 We have selected a variety of brands and styles for you here. There are many different colors and patterns for you to choose from. We have also found leggings of varying lengths, and even some with pockets! You can also purchase fleece-lined leggings for extra warmth and comfort.
The brand Motherhood Maternity seems like a market dominator in the maternity leggings industry. They have earnt their positions at the top of our rankings as they are the most inclusive in sizing.
We have rounded up a selection of the best maternity leggings on the market to help you make your pick.
We have also included a section discussing what to look for in maternity leggings. We have answered a few FAQs about maternity leggings and offered a few wear and care tips.
Our top pick is the Motherhood Maternity Essential Stretch Full Length Secret Fit Belly Leggings. This is because they are very reasonably priced and come in a huge variety of sizes, making the brand appear fairly inclusive.
There are hundreds of positive reviews for the Motherhood Maternity brand on Amazon.com and many people highly recommend them. These leggings are reasonably priced and easy to care for.
They have the characteristic Secret Fit Belly developed and patented by Motherhood Maternity.
---
Top 10 Best-Rated Maternity Leggings
These cost $15 to $25.16 per pair of leggings. They are made from 87% cotton and 13% spandex, giving a comfortable but supportive feel.
They are ankle length and go over your bump. They come in black only and are made from a knit weave. They range from size XS-3X and have a 28-inch inseam.
---
These leggings will set you back between $15 and $14.53 a pair. They consist of 87% cotton and 13% spandex and are machine washable.
They are cropped leggings that go over your bump. They provide support and light compression. They come in black only and range from sizes XS to 3X. The inseam of these leggings are 22.5 inches.
---
These leggings cost between $22.48 and $29.98 on Amazon.com. They are made of 95% nylon and 5% spandex, providing comfort and light compression.
They are ankle length leggings and are pulled up over your bump for increased support. They can also be worn mid-bump and slightly underneath.
You can get these leggings in a variety of colors and patterns: black, heather grey, navy, radicchio, and fair isle. These leggings range from size S to 3X. They have a 28 inch inseam and a fleece lining for insulation in the cold winter months.
---
Terramed leggings cost $18.99 a pair. They are constructed from a blend of 90% bamboo and 10% spandex. They are suitable for machine washing at cool temperatures.
These leggings are cropped to a capri length and fit over your bump. They provide compression on your legs and bump. They come in black only and range from sizes S to 2X.
These leggings offer 4-way stretch capabilities and have a built-in full support panel that will expand with your bump.
---
The Foucome leggings are made from 90% polyester and 10% spandex. They can be machine washed with similar colors and fabrics. They cost $14.69 to $24.39 a pair.
The leggings are full length and fit under your bump. They are compression leggings so will help you feel secure. They come in the colors black, lilac pink, navy, wine red, and grey. The sizing ranges from S to 2X.
---
These leggings are made of a polyester and spandex blend. They will set you back around $12.99 to $25.99 a pair. They are machine washable.
The leggings are cropped and come to just below the knee. They are over the bump leggings and come in blue, grey, and black. They come in sizes S to 2X.
---
These leggings cost between $14.69 and $24.39 per pair. They consist of a 90% polyester and 10% spandex blend. They are machine washable and provide the wearer with a decent level of compression.
The leggings are ankle length and pull up to under your bump. You can get black, lilac pink, navy, wine red, and grey colors. The sizing ranges from S-2X.
---
These leggings are made from a cotton spandex blend. Depending on size and color, a pair will cost you between $17.19 and $26.29. They can be washed on a cool cycle and should provide the wearer with a little compression.
The leggings are ankle length and pull over your bump. They come in black, green, grey, red, and blue colors. The leggings are available in sizes S to XL.
---
The Kegiani leggings cost $16.99 a pair. They are made from a cotton and spandex blend and are intended for loungewear instead of activewear.
They are machine washable and ankle length. The waistband sits under your bump for optimal comfort. The leggings come in many colors and patterns.
These include army green, black, brown, camouflage, leopard print, grey, yellow, flowers, jacinth, lake green, light blue, white, and an astral pattern. The Kegiani leggings come in sizes S-XL.
---
These are very basic leggings. They come in a 2 pack for $22.48 to $37.81 depending on size. They are only sold in black and do not provide much compression.
The material blend is 96% cotton and 4% spandex, making them perfect for loungewear. They are full length and the waistband falls under your bump.
The leggings are machine washable and range from size S to XL. They have a 27.5 inch inseam.
---
Best Maternity Leggings – Buyer's Guide
What will you be doing in them?
During pregnancy, your body changes rapidly and you will need some leggings that can keep up.
You will need leggings that provide support but also comfort. They will need to look good and be suited to the activity you are doing.
For instance, maternity workout leggings will need to provide you and your bump with a lot more support than just some day-to-day clothing.
Most leggings are fairly versatile and will be able to handle multiple uses, but it is wise to consider this before purchasing.
What length are they?
If you are looking for summer maternity leggings, we advise getting some shorter cut ones. These could be biker shorts, ¾ length or whatever else you are looking for.
If you are shorter or taller than average, bear this in mind when you are considering legging length. A cropped legging designed for taller women may well fit you as a full-length style if you are petite.
Many women opt to wear shooter leggings in the later trimesters of their pregnancy. This helps to provide your lower back with increased support, particularly if you are wearing a dress.
How easy are they to clean and care for?
Some leggings are made specifically for a certain purpose, such as working out. These are made from materials such as elastane and have specific care instructions.
These are often a low temperature wash with similar colors and materials. If you have lots of clothing like this, it is not much of an issue as you can wash them all at once.
If you do not have many workout clothes, it can be a pain trying to find other items to wash with them.
Alternatively you have to run a wash with hardly any clothes in, or hand wash the leggings.
They may also need to be air dried or hung up.
This seems like a minor issue now, but as you near the later stages of your pregnancy you will relish things that are easy to care for.
What material are they made out of?
There are 4 main materials that leggings are made from polyester, elastane, nylon, and cotton.
Polyester is a synthetic material and is commonly found in both workout and lounging leggings. It is fairly water-resistant and helps to wick away sweat from your body.
Elastane leggings are made from the same material as Spandex. These leggings provide a lot of compression and stretch. Leggings are rarely 100% elastane as these would be near impossible to wear and take off.
Nylon is a durable and lightweight material that is incredibly comfortable. It is often used as a part of a material blend for workout leggings to keep the fabric light.
Cotton is not a great material for workout leggings as it provides little support and compression. However, cotton leggings are very comfortable and are perfectly suited for lounging around your home or for casual wearing.
It is very breathable but also absorbs lots of moisture, making it less than ideal for activewear. If the leggings are cheaply made, they are likely to be see-through.
This is a large issue in pregnancy. As you put on weight and your body changes, the material will stretch out more and become more see-through.
How sheer is the material?
This is commonly tested through something known as the 'squat test'. This is when you bend over or squat down and check how visible your underwear is from behind.
Lighter colors and thinner materials are more likely to reveal your underwear. Most problems can be solved by wearing nude underwear or simply sizing up in your leggings.
Do they fall over or under your bump?
When we say this, we are talking about the waistband of the leggings.
Under-bump leggings are good if you do not like having any pressure on your bump. They don't have a belly panel and are instead designed with elastic in the waistband.
This will stretch out as you grow, meaning that you can keep wearing your leggings throughout the course of your pregnancy. These are also ideal for warmer weather as less of your body is covered with the material.
In warmer months, this could be the difference between being comfortable and overheating!
Over-bump leggings are very supportive and have a belly panel built in. They are designed with an extra long and wide waistband that is highly stretchy.
These cover your bump and the top of the waistband sits above it. They can be worn at any point in your pregnancy journey, although you will notice the biggest benefits at later stages.
They will provide you with support and security to go about your day as normal.
Frequently Asked Questions About Maternity Leggings
Can I wear normal leggings when pregnant?
This will depend on how much your shape and size changes during pregnancy. It also depends on the material that your leggings are made from.
If they are very stretchy then you may well be able to wear them long into your pregnancy.
If the waistband becomes too tight, you can simply roll it down to underneath your bump. This will accommodate well for budget issues as it means you can continue wearing your old wardrobe.
Alternatively, you can opt to use this moment as an opportunity to purchase maternity-specific clothing.
How do I style maternity leggings?
Loose, flowy tops are the simplest way to elevate your legging look. These counteract the tightness on your lower half and create a chic, effortless look.
You could also wear long tops if you are concerned about underwear lines showing through the tight fabric.
Many pregnant people opt to wear leggings underneath their dresses. This provides extra support and coverage.
Anything goes with leggings, and that is the beauty of them. Do not put too much pressure on yourself to look fabulous all the time, wear what you feel comfortable and confident in.
You are growing a new life inside of you, and your comfort is of the utmost importance.
What should you not wear while pregnant?
Again, this ultimately comes down to personal preference. Many women prefer not to wear zippers and belts during pregnancy due to the constriction and hassle these come with.
It is wise to avoid padded and underwired bras during pregnancy. As your breasts increase in size they need to be cared for.
Underwired bras can prevent correct blood circulation and can lead to fluid retention if they fit poorly.
It is a good idea to wear natural fabrics during pregnancy as opposed to synthetics. These are materials such as elastin, georgette, and chiffon.
These synthetic fabrics are much less breathable than their natural counterparts.
As your hormone levels are elevated during pregnancy, you are likely to sweat more. Wearing synthetic fabrics will make this worse and can lead to skin rashes developing.
When should I start wearing maternity clothes?
This will vary and should be dictated by your body and the changes it goes through. Everyone's pregnancy journey is different and there is no set time limit for when you should begin to wear maternity clothes.
Most women are likely to begin showing at around 14-16 weeks. By week 20, you are well on your pregnancy journey and are likely to have a distinct bump appearing.
Your initial body shape and whether this is your first pregnancy will affect when you begin to show. Let your body dictate when you need to buy and wear maternity clothes.
The most important thing to remember is that your comfort is the first priority.
How tight should maternity leggings be?
It is okay for your leggings to feel supportive, as this will provide you with additional comfort, particularly towards the later stages of your pregnancy. These should not feel constricting or uncomfortable.
We suggest purchasing leggings made from breathable and stretchy fabric. This will allow you to remain wearing them comfortably during the course of your pregnancy.
Maternity legging tips
If you are concerned about camel toe, we have the tip for you! Simply pop a panty liner or pad in your underwear and go about your day as normal.
Not only will this prevent camel toe forming, but will also catch any rogue drops of discharge during the day.
If you prefer not to wear underwear, you can pop the pad straight into the leggings too!
We suggest washing your leggings at a cool temperature and air drying them to prolong their lifespan. Washing with similar colors and materials will help this too.
Thick and sleek fabrics provide a lot of compressions and can be very useful when dealing with varicose veins.
You can even wear compression socks underneath your leggings for added support.