Want A Free Kiehl's Birthday Gift? Here's How [Complete Guide]!
This post may contain affiliate links which means I will get a commission if you make a purchase at no additional cost to you. As an Amazon Associate I earn from qualifying purchases. Please read my disclosure for details.
Do you love Kiehl's? Do you want to receive a free Kiehl's birthday gift this year? If so, then we have the perfect post for you. In this blog post, I will show how Kiehl's customers can get a free Kiehl's birthday gift in-store and online!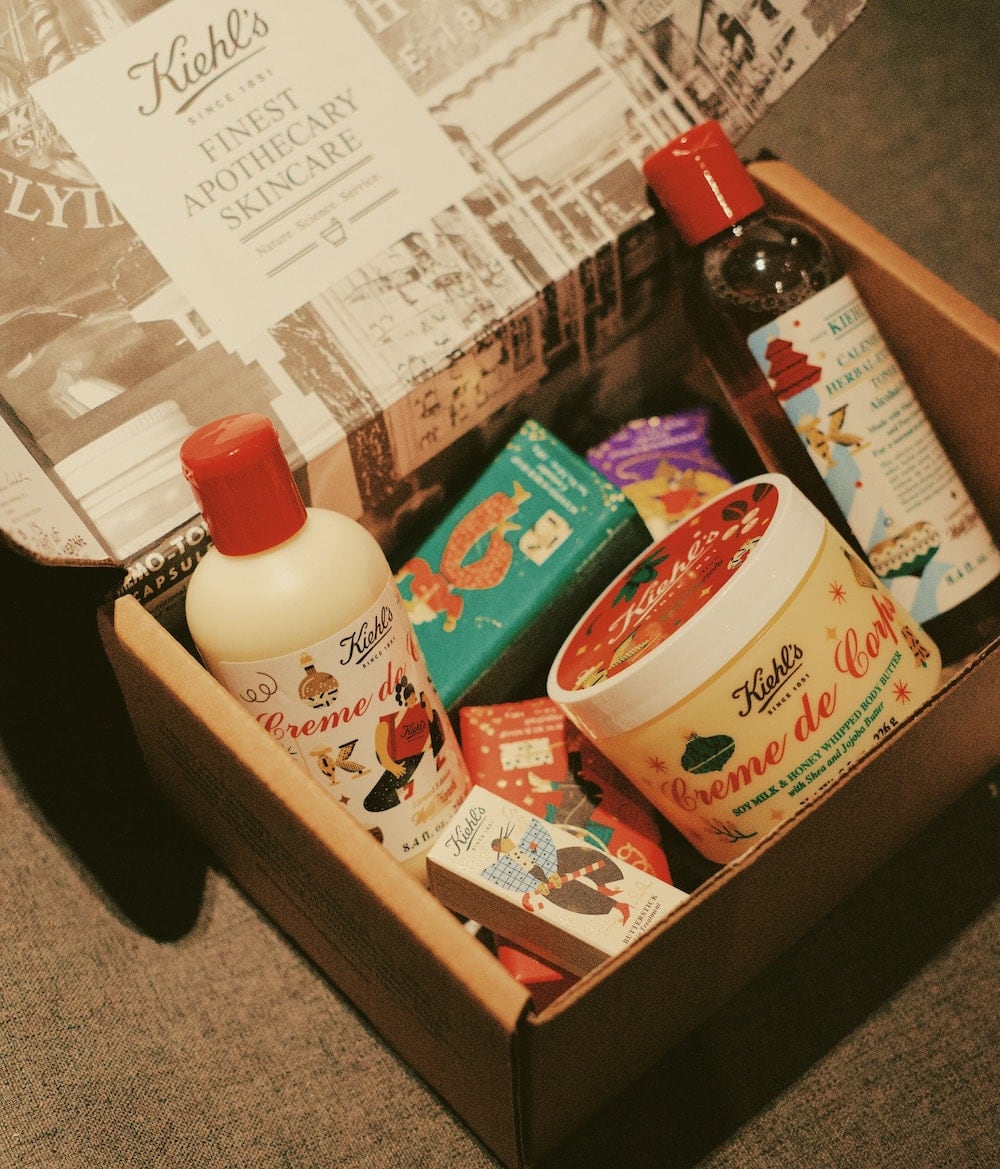 Introduction
We love Kiehl's and we know that you do too. So when it comes to your very own birthday, Kiehl's is pulling all the stops with an amazing gift for your birthday!
Chances are that you already know about the popular free Ulta and Sephora birthday gifts. But did you know that you can get free birthday gifts from other beauty brands and retailers like Clinique, BareMinerals, and Tarte Cosmetics, and more?
Since 1851, Kiehl's has been keeping it real with products that are backed by nature, science, and service.
Why? The brand believes in healthy skin for all because skincare is truly self-care. My personal favorite Kiehl's product is the bestselling Creme de Corps Body Lotion. I discovered this product towards the end of my pregnancy and used it nonstop.
The Kiehl's brand has been making beauty lovers' dreams come true by bringing out some of the best products from their line like the Kiehl's Since 1851 Ultra Facial Cleanser, Kiehl's Since 1851 Midnight Recovery Concentrate Face Oil, and Kiehl's Since 1851 Creamy Eye Treatment with Avocado Nourishing Eye Cream.
Members of Kiehl's free loyalty program called Kiehl's Rewards are eligible to receive a free birthday gift with any purchase during their birthday month (join here).

Kiehl's Deluxe Birthday Gift 2021
A lifetime of flawless beauty begins with the 2021 Kiehl's birthday gift. The 2021 Kiehl's birthday gift is this best-selling Kiehl's Lip Balm #1 0.5 fl. oz. Tube ($10 value) for Silver, Gold, and Ruby tier members and a travel-size gift for Sapphire and Black Diamond members.
Is this Kiehl's Lip Balm #1 birthday gift worth it? Let's find out:
Daily moisturizer to help soften your lips
Keeps lips feeling smooth and hydrated all day long
Protects against the harmful effects of sun, cold, wind, and harsh weather conditions
Fragrance-free formula soothes sensitive skin
How To Become A Kiehl's Rewards Member
Anyone living in the US or Canada can signup to become a Kiehl's Rewards member. It is free to join and only requires your name, email address, and your birthday (for your gift to be delivered straight to your inbox).
New members start at the Silver Tier (0-99 points), then move up to the Gold Tier (100-199 points) then to Ruby (200-299 points), Sapphire (300-499 points), and finally the Black Diamond Tier (500+ points). Regardless of your tier status, everyone gets a free Kiehl's birthday gift during your birthday month.
---
Interested in more posts like this 2021 Kiehl's birthday gift article? You'll love these related posts:
---
Here's How Kiehl's Rewards Points Work
Unlike many reward programs that use the calendar year (January 1 – December 31) to calculate reward points, Kiehl's uses something called member year. The "member year" begins the day a client joins Kiehl's Rewards and lasts for 365 days.
Customers who accumulate 100 points throughout their member year are eligible for a $10 Reward. You'll also receive Sapphire Status if you reach 300 points, and Black Diamond Status if you earn 500 or more points over the course of your member year.
And there's more! You must requalify every member year to keep your status at Sapphire or Black Diamond, which is valid for the year during which you qualify and the following year (more here).
Here are some of the perks of the free Kiehl's Rewards program:
Automatic annual $10 Rewards Certificate when you accumulate 100 points (up to 3)
Access to the annual 20% Friends & Family Event
Access to the annual $20 Kiehl's Cash Holiday Gift
An annual birthday gift
Note that Kiehl's Rewards points and offers are valid for 60 days after eligibility/issuance and must be used in one transaction.
Not yet a Kiehl's Rewards member? Scoop the benefits of the 2021 Kiehl's loyalty tiers below and join for free here.
Here's the breakdown of each tier benefits:
How to Receive Your Free 2021 Kiehl's Birthday Gift
Once you become a member, an email containing your birthday offer (lip balm for Silver, Gold, and Ruby members and a travel-size gift for both Sapphire and Black Diamond members) will be sent to your mailbox.
You can claim your birthday for free simply by making a purchase. You'll be able to choose your birthday gift during the checkout process.
There is no promotional code needed to claim your gift. Your birthday offer is only valid for about 45 days (the exact expiration date will be listed in the birthday email).
---
FAQ About Kiehl's Birthday Gift
Do Kiehl's points expire?
Yes. Your points will expire on the anniversary of your enrollment date with Kiehl's Rewards. Check your points balance here.
How do I redeem my Kiehl's points?
To redeem your Kiehl's points, simply select the vouchers (and rewards) while checking out.
Does Kiehl's ever go on sale?
Oh, yes! The annual 20% off Friends & Family Event is an opportunity to score major savings on the brand's annual sale. Outside of this opportunity, Kiehl rarely goes on sale. Stock up during this event or the Nordstrom Anniversary Sale.
Does Kiehl's take empty bottles?
Ys, Kiehl's takes empty bottles in-store only. This is part of the brand's values of supporting sustainability and recycling. One reward may be redeemed per month for a 2.5oz travel size product worth $11 in value.

How do I use Kiehl's $10 reward?
Kiehl's Rewards will be automatically available in your account online or in-store for redemption within 24 hours and expire after 60 days. You will receive an e-mail notification once your rewards certificate is available to be redeemed.
Bestselling Kiehl's Products
This cult-favorite brand sells out often on some of their bestsellers. Need a few suggestions? You'll love these top-rated Kiehl's products:
Conclusion
Kiehl's is a great brand, but it can be hard to know where to start or what to buy from this skincare brand.
The best way to get started with Kiehl's is by signing up for their loyalty program. By joining the loyalty program you will receive exclusive offers and rewards just for being a loyal customer. It seriously pays to shop!
In addition, Kiehl's Rewards members also have access to birthday gifts each year. This year, all customers will receive either this free lip balm (in-store or online) or a travel-size product!
If you want this free gift then make sure that you sign up before your birthday! The Kiehl's birthday gift is valued at $10 so it is perfect if you're looking to try out new products from Kiehl's without spending too much money.
IF you ask me, I'll say your birthday is the perfect day to treat yourself to amazing skincare products while also getting an exclusive gift for loyal Kiehl's members.
I hope you enjoyed this post about the 2021 Kiehl's birthday gift. If you did, you'd love these related posts:
Not a Prime member yet? Get all the perks of Amazon with this Amazon Prime 30-Day Free Trial. Are you a student? Lucky you! Use this link for your Prime Student 6-month Trial.