What to Wear with Spanx Leggings: 3 Spanx Faux Leather Leggings Outfit Ideas
This post may contain affiliate links which means I will get a commission if you make a purchase at no additional cost to you. As an Amazon Associate I earn from qualifying purchases. Please read my disclosure for details.
This post on what to wear with Spanx leggings is a sponsored conversation written by me on behalf of Nordstrom. All opinions expressed in this post are mine.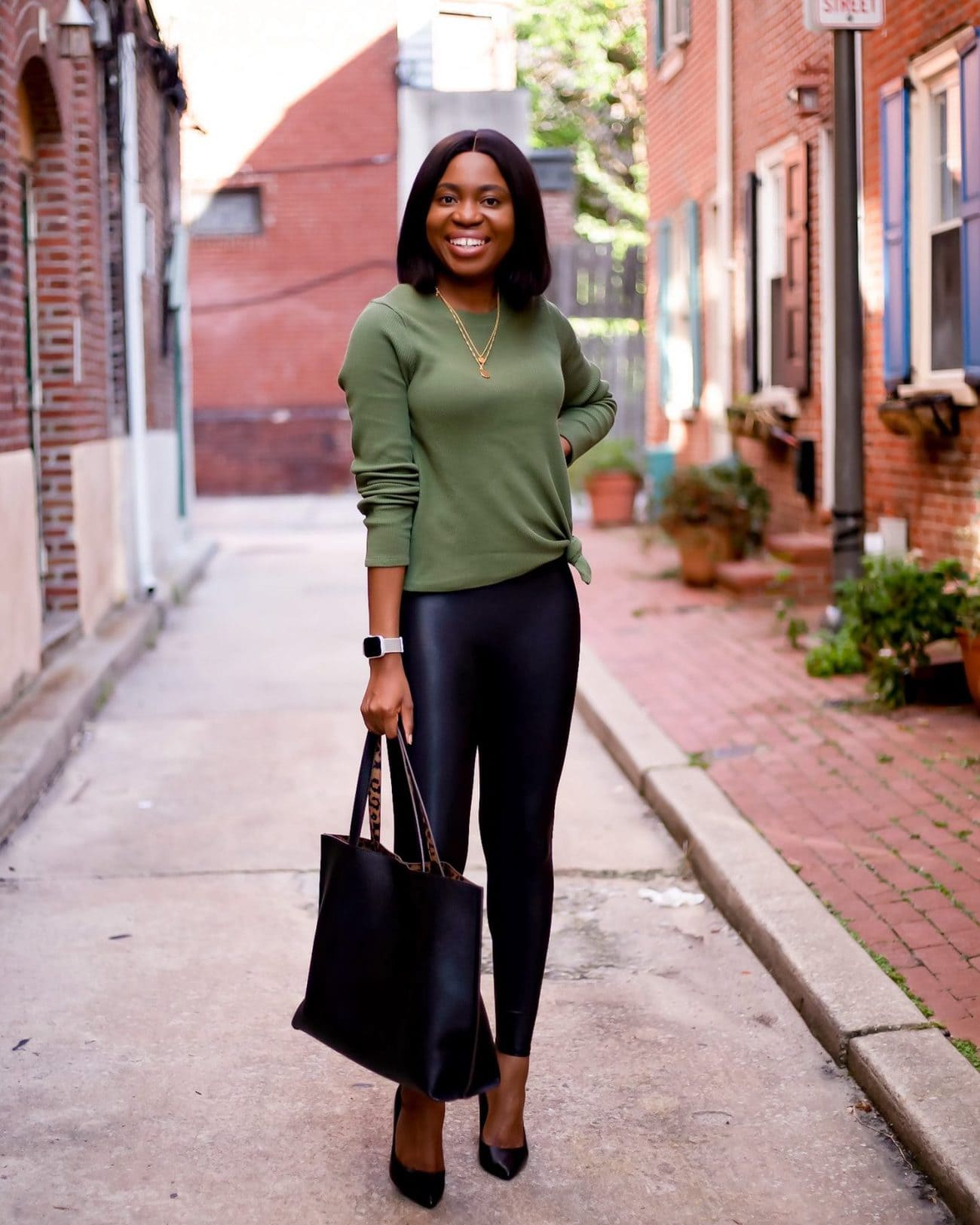 It's no doubt that Spanx has made a name for itself as the go-to brand for shapewear. But another arguably successful product from this company is the Spanx faux leather leggings. Today I'll be sharing an effortless Spanx faux leather leggings outfit you can rock right now.
Got a pair of Spanx leggings from the Nordstrom Anniversary Sale and now wondering how to style your Spanx leather leggings? You're in the right place. Keep scroll for three easy to wear Spanx outfit ideas.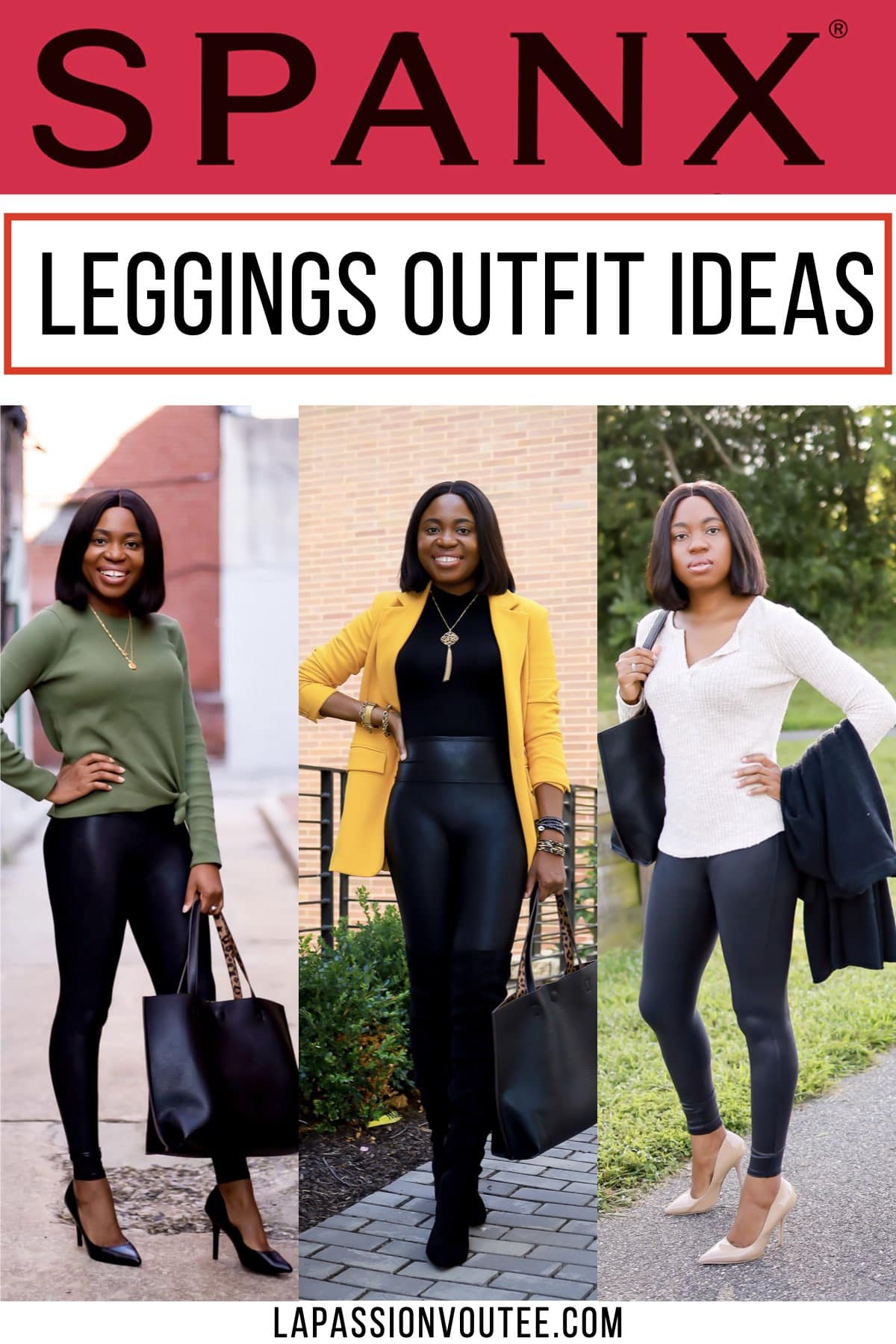 I don't know why it took me so long to get on the faux leather leggings gang. For a while, I kept my style strictly work pants, denim, and regular leggings (like Zella and Lululemon). Then I was brave enough to splurge on a pair of Spanx moto leggings. I was amazed by the sheer number of compliments I got wearing the Spanx leggings. Apparently, it made my derriere look really good.
Even my 50+-year-old bestie couldn't help but order one for herself. If you don't already own a pair of these butt-sculpting leggings, click here to get a pair of authentic Spanx leggings from Nordstrom.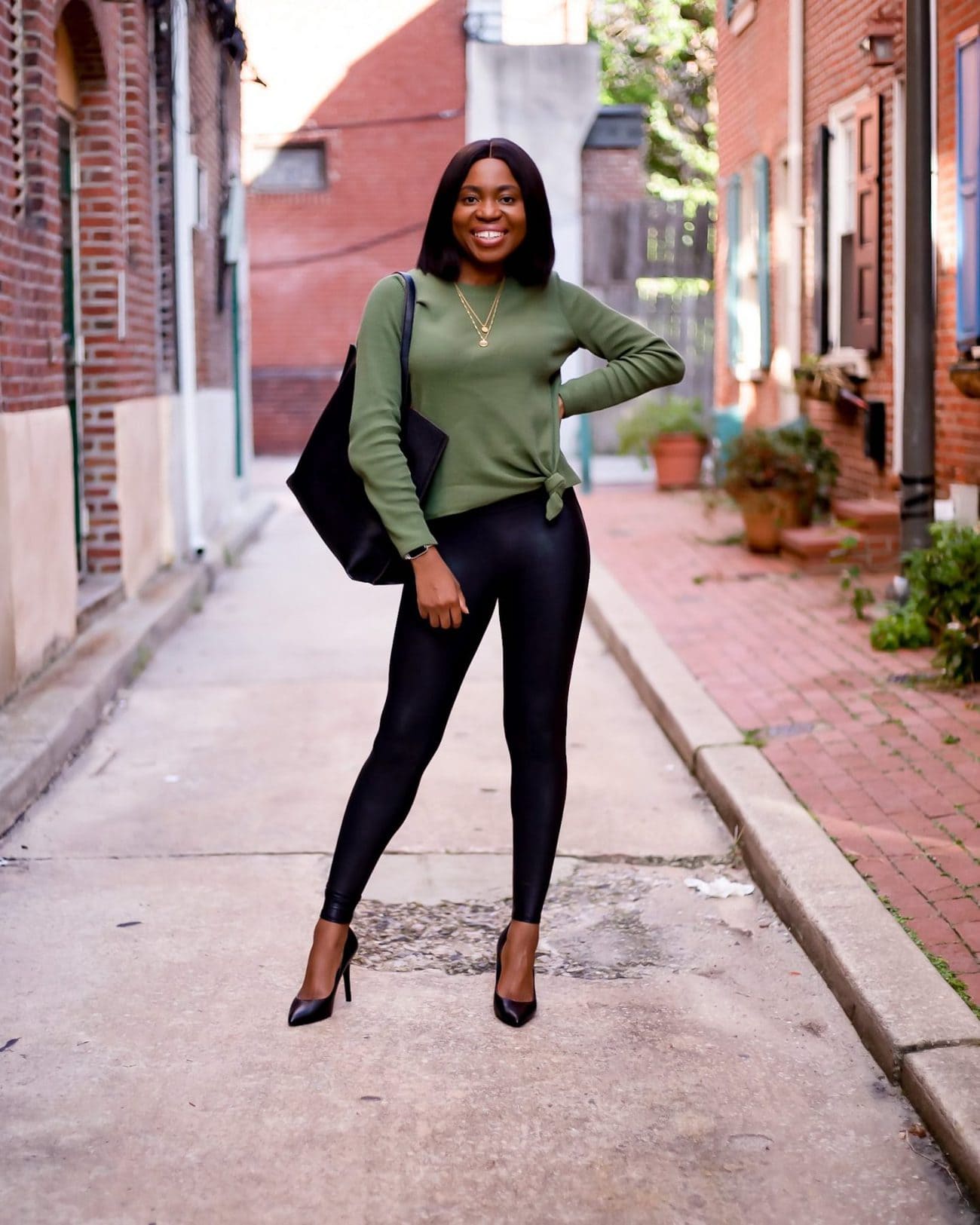 Spanx leggings come in several styles. The most popular styles are:
But what's the deal with Spanx leggings though? They are insanely comfortable, durable, and shockingly versatile. Don't believe me? Watch this video to see 12 ways to wear Spanx faux leather leggings for summer, fall, and even winter.
What to Wear with Spanx Leggings: Spanx Faux Leather Leggings Outfit Ideas
For reference, I am 5″5 and roughly 135 lbs. I typically wear a size 4 (XS or S).
I am wearing a size small Regular, my usual size, in the SPANX Faux Leather Leggings. For this particular style, I recommend you get your standard size. Take advantage of Nordstrom's free shipping and return policy and order two sizes to compare the fit.
Outfit #1: Spanx Leggings and Front Knot Sweater
One of the easiest ways to rock your Spanx leggings this fall is to pair it with a fitted sweater and a pair of heels. For this Spanx faux leather leggings outfit, I chose this Nordstrom side knotted sweater (also love this one) and a pair of classic Charles David pumps that I recently purchased.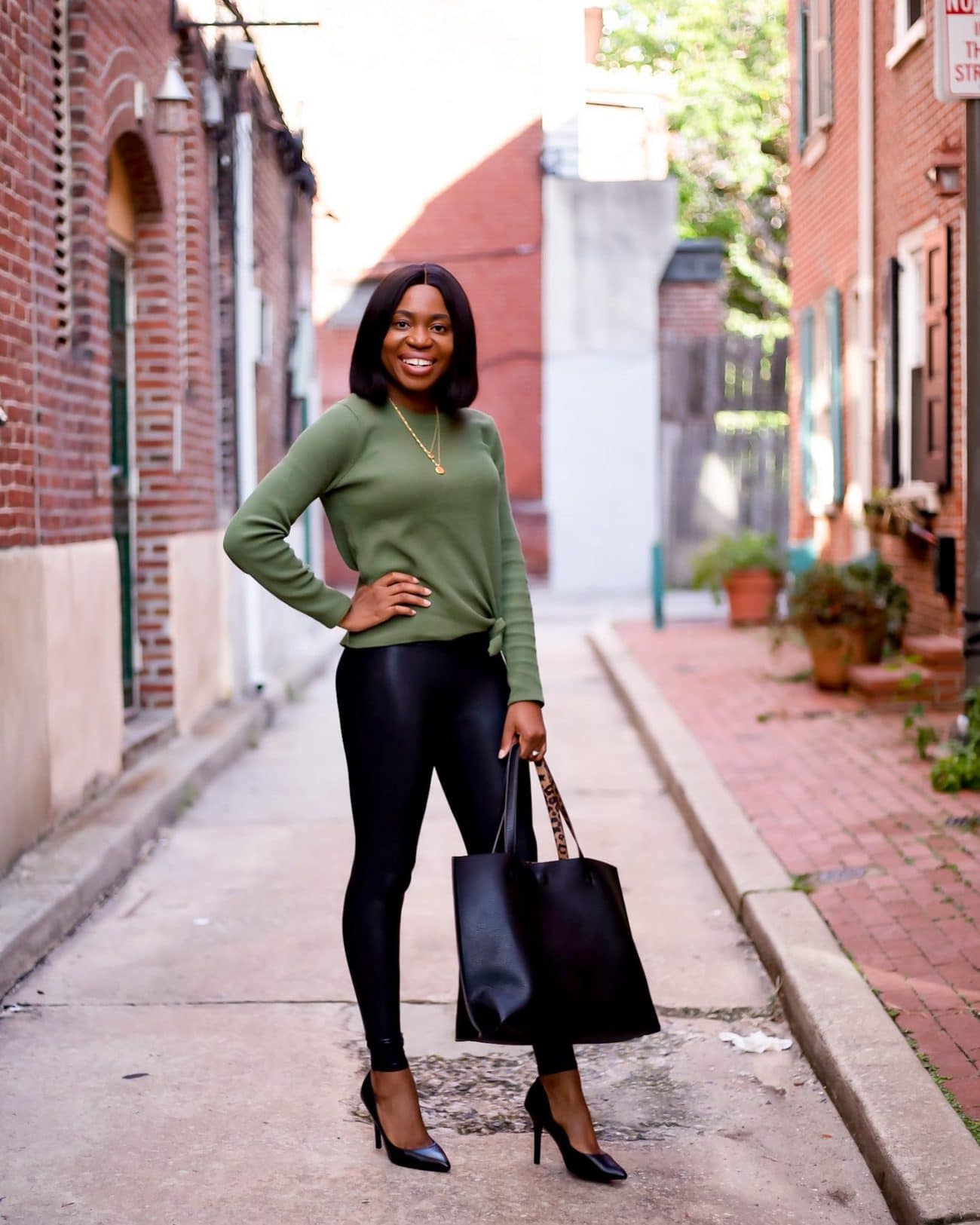 Shop The Look


For a functional look, add on a tote bag (I bought this reversible tote) to haul your essentials since the leggings do not have side pockets. Simple layered necklaces also break up the solid look and proportions.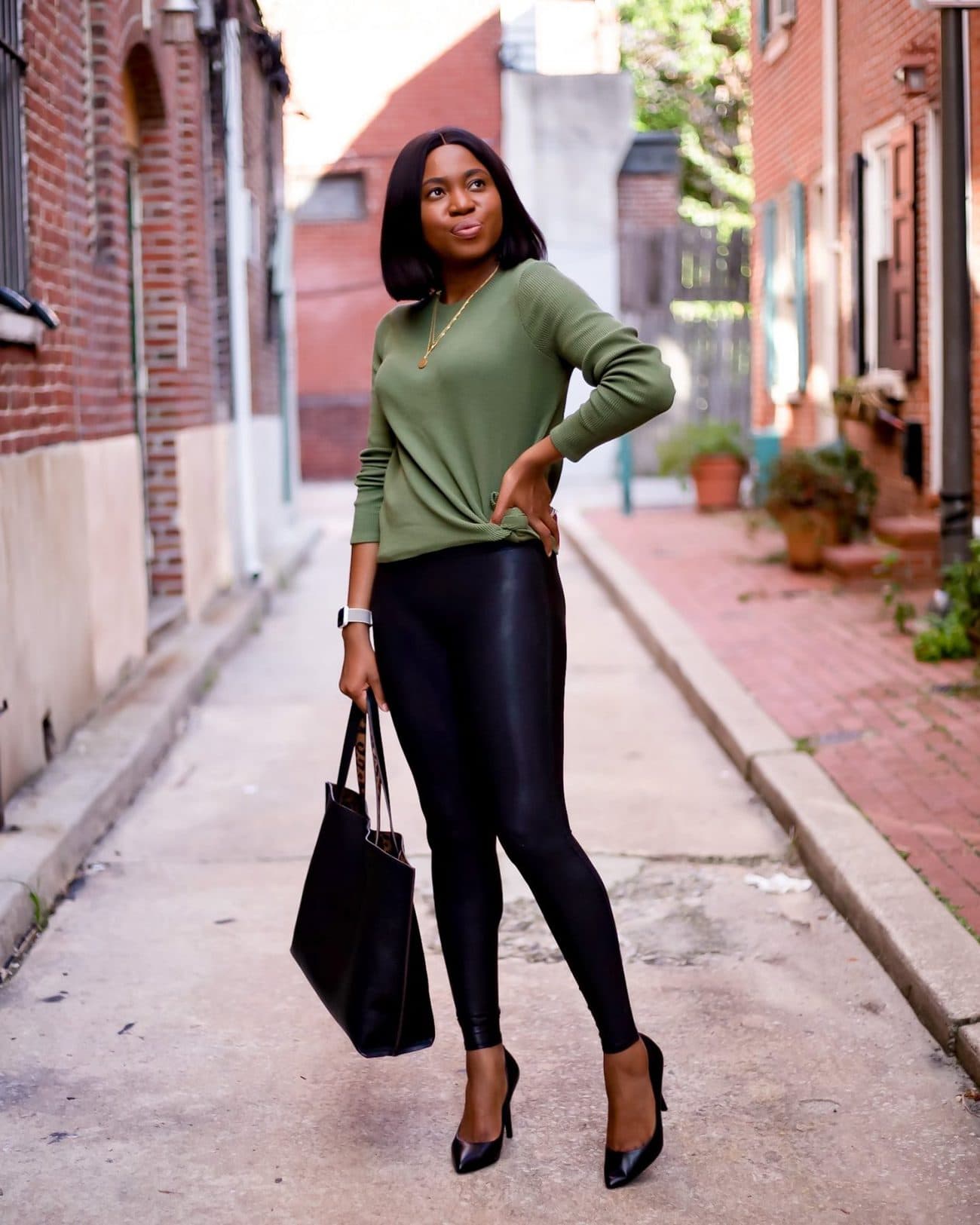 ---
Outfit #2: Spanx Leggings and Fitted Blazer
This second Spanx faux leather leggings outfit is a lovely play between casual and business… with a touch. If there's anything that I'm not particularly keen about bodysuits, in general, is that they can create a bad case of VPL (visible panty line) under certain pants.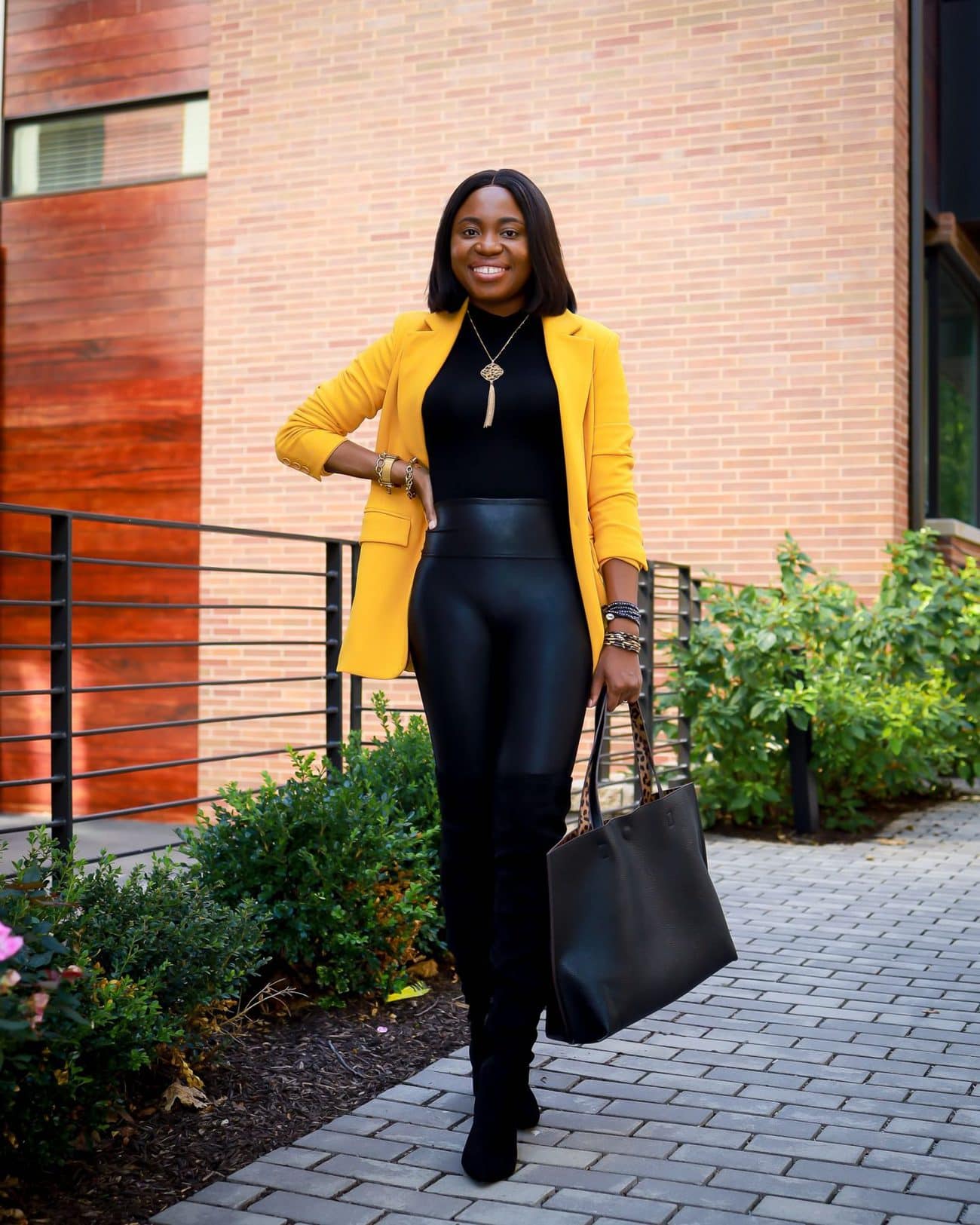 Shop The Look


Unfortunately, leggings tend to be the biggest issue because of the fitted style. The solution? Seamless bodysuit. I love this top-quality seamless bodysuit from Nordstrom. It's made from the same or similar fabric as popular seamless underwear. And under the Spanx leather leggings, the bodysuit looks fabulous.
I particularly love playing with texture. The stretchy fabric of the scoop neck bodysuit contrasts beautifully against the faux leather texture of the leggings, and the suede-like material of the OTK boots (also available on Nordstrom).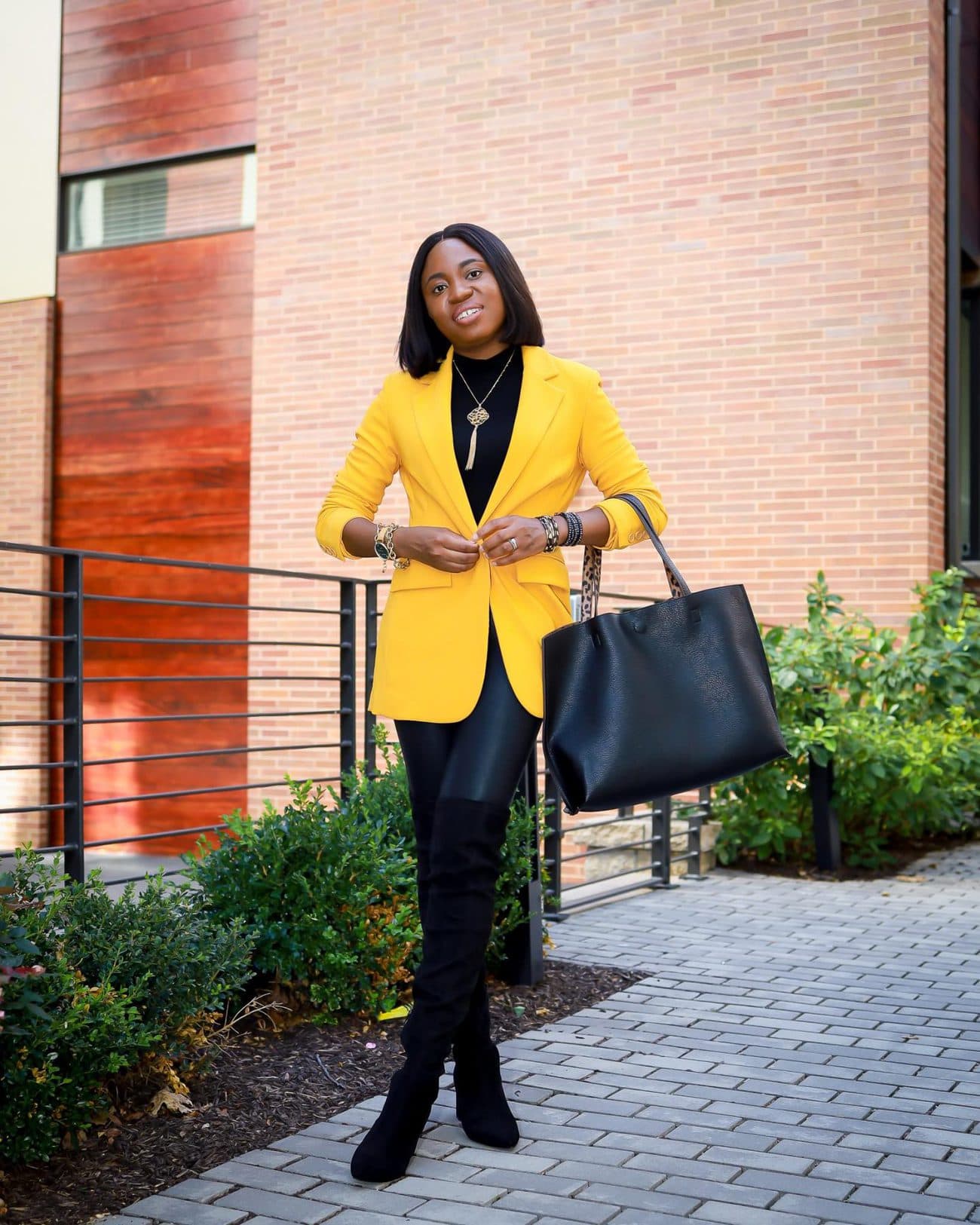 Speaking of versatility, this reversible tote is back to play. The bright yellow color of the blazer (similar) was the perfect amount of color I needed to spruce up this look.
---
Outfit #3: Spanx Leggings with Oversized Cardi
This is another cozy look that is perfect for the season. Layering the buttery soft cardigan makes the Spanx faux leather leggings outfit lean towards a dressed-up casual style. With the slightly oversized Barefoot Dreams cardigan (read my detailed Barefoot Dreams cardigan review for more) covering the backside, I can confidently wear this ensemble to work.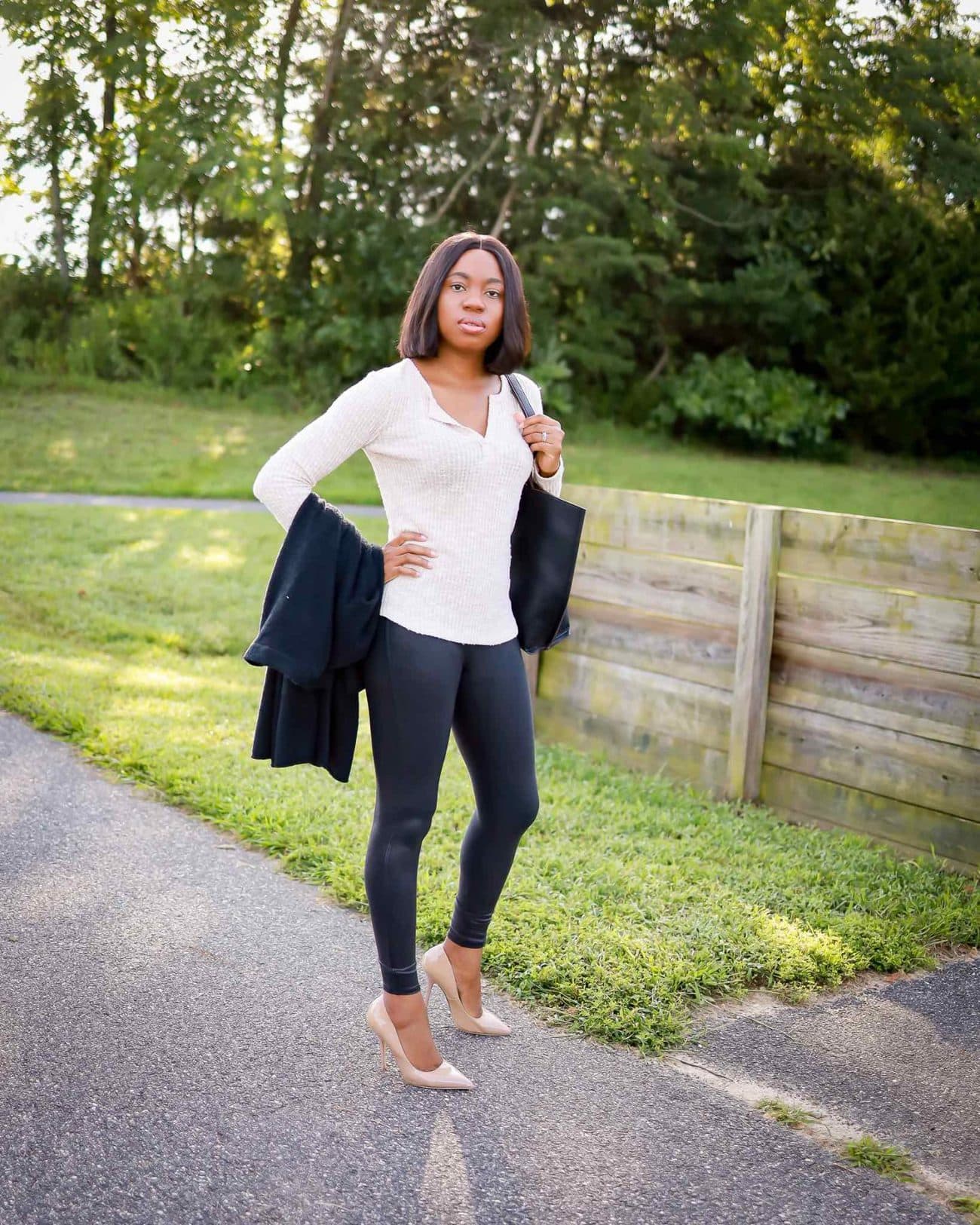 Shop The Look


Well, this was before scrubs became my workwear. And is that the reversible tote again? You guessed it, sis! As an alternative, you can switch out the nude pumps (similar) for comfy slides. I bought this Cole Haan slip-on from the Anniversary Sale. These are cushioned, comfortable, and versatile. I love the Croco-embossed pattern.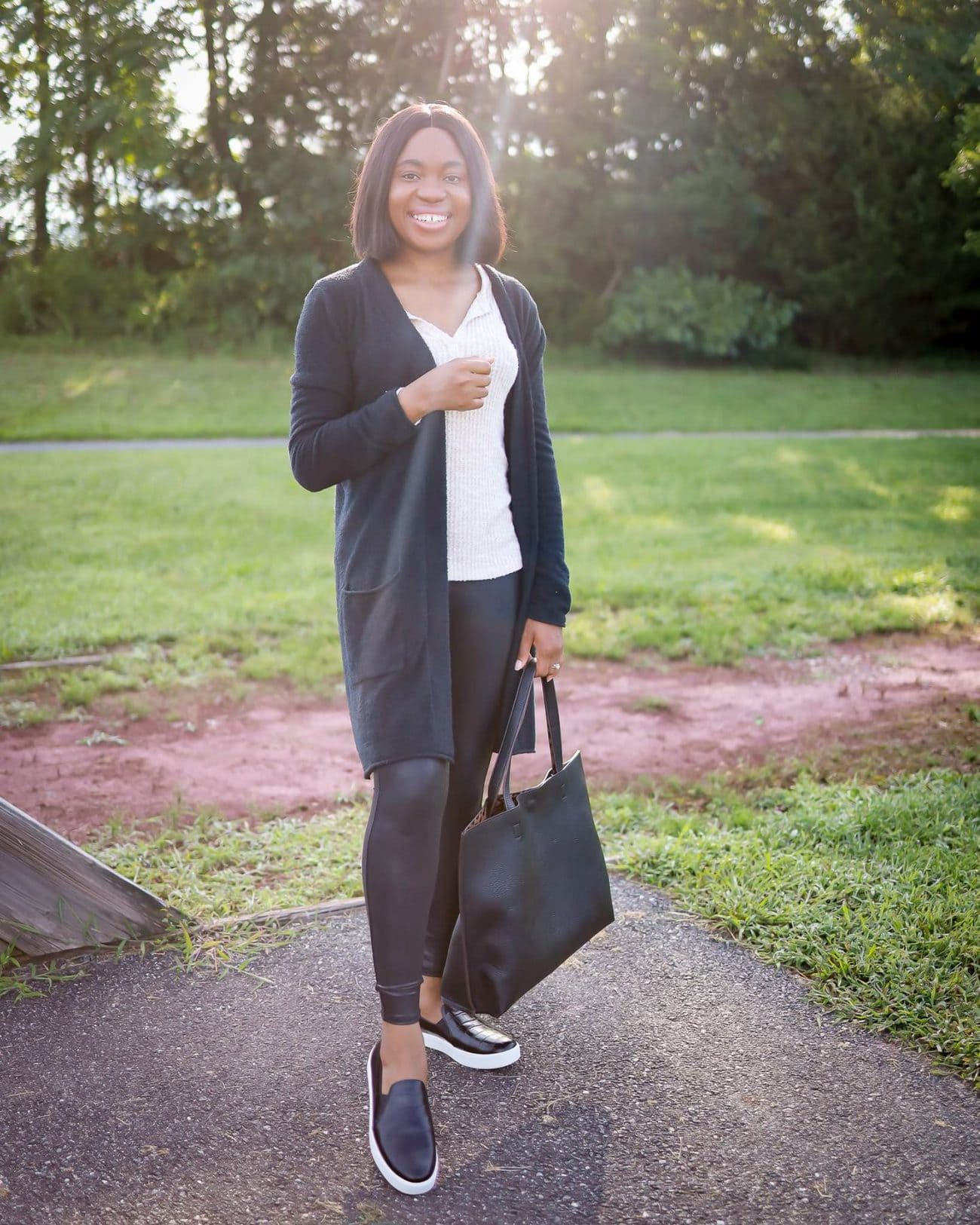 ---
I hope these three Spanx faux leather leggings outfit ideas give you some inspiration on how to style your Spanx leggings this fall. I'm also loving a few more other Spanx styles like The Perfect Black pants, Jean-ish leggings, Camo Seamless leggings, and High Waist Ankle denim.
I've worn these Spanx leather leggings on repeat these past few weeks and can't wait to share even more ways to style these versatile leggings with you. Need more styling ideas? You'd find this YouTube video helpful.
As you might suspect, Nordstrom carries a large selection of products from Spanx, and with their generous return policy, you're rewarded with a hassle-free shopping experience from the comfort of your couch.
Frequently Asked Questions
What to wear with Spanx Legging?
You can wear your Spanx leggings with a sweater, pullover, cardigan, and even a dress. Complete your look with classic black pumps, sneakers, OTK boots, winter boots, or even sandals. Your options are limitless.
Are Spanx leggings true to size?
Some reviews recommend sizing up in the faux leather leggings. Personally, I say stick with your usual size. After a couple wears, the leggings will stretch out a little and mold to your body. If you size up, you might end up with an unflattering bulge.
Are Spanx leggings comfortable?
Yes, Spanx leggings are comfortable. They are surprisingly very comfortable even with the level of compression/slimming it delivers. You'll feel like a tall drink of water!
Which Spanx leggings are the best?
The three best Spanx leggings are the faux leather leggings, the Moto leggings, and the Seamless leggings. I own and recommend all of these. If you can only get one pair of leggings, the faux leather leggings are the most versatile and on-trend style to get.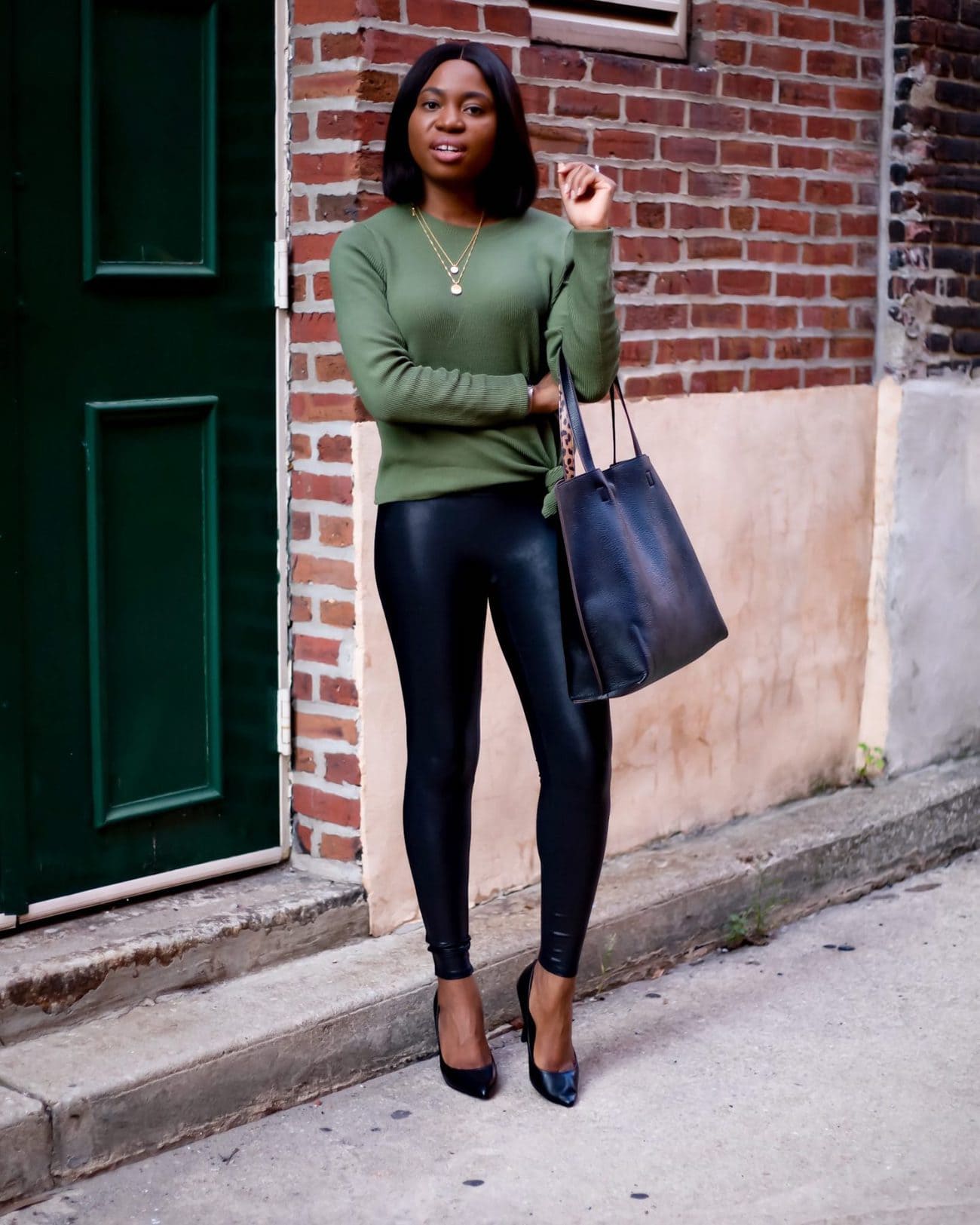 Now that you have some great outfit ideas for your Spanx faux leather leggings, it's time to plan your next adventure!
If you're wondering what to wear to Universal Studios, Cristal has some stylish and practical suggestions.
Whether you're looking for comfortable footwear or a statement accessory, she will help you put together the perfect outfit for a fun-filled day at the park.
Liked these SPANX Faux Leather Leggings outfit ideas? You'll love these related posts:
Reading this post on mobile? Be sure to download the LIKEtoKNOW.it and follow me "lapassionvoutee" for exclusive, in-the-moment shoppable posts. Also, available on Android 🙂

It's also the fastest way I can keep you updated on the latest sales and newest styles since blog posts take a lot of time to create. Here's what you've recently missed!