Fabletics vs Lululemon Leggings: Which Leggings is Better?
This post may contain affiliate links which means I will get a commission if you make a purchase at no additional cost to you. As an Amazon Associate I earn from qualifying purchases. Please read my disclosure for details.
As two giants in the athleticwear industry, both Fabletics and Lululemon have been at war for years over the top spot, a competition that still rages on today. Seriously, Kate Hudson Fabletics vs Lululemon leggings, which brand is better?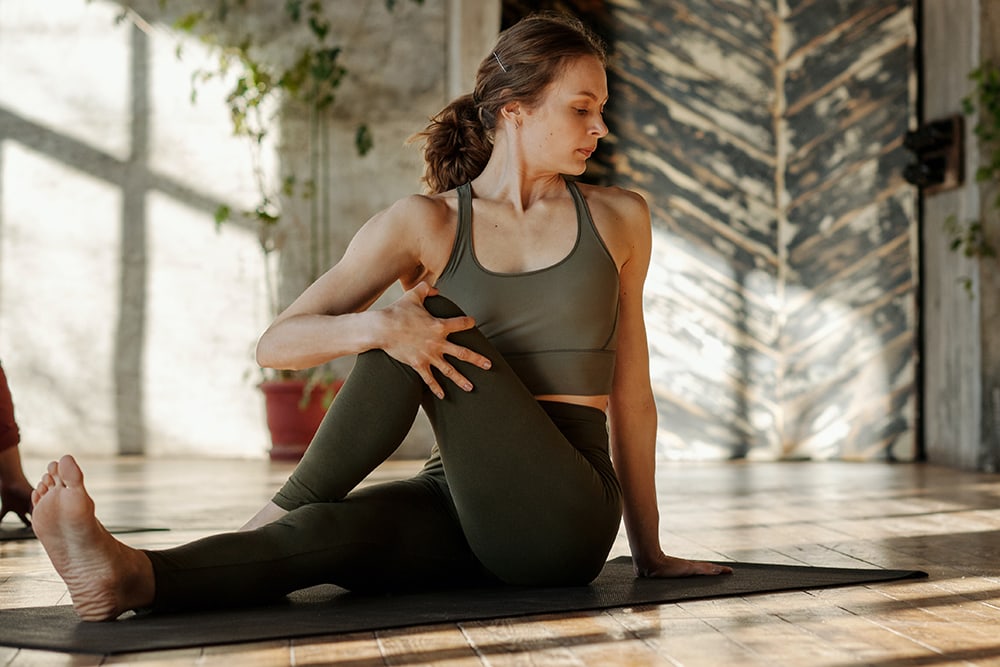 Each brand promises that it has something special to offer its customers, albeit for a considerably higher price than those at your standard sporting goods store…so what makes these activewear brands so amazing?
Luckily for you, we're here to answer that question!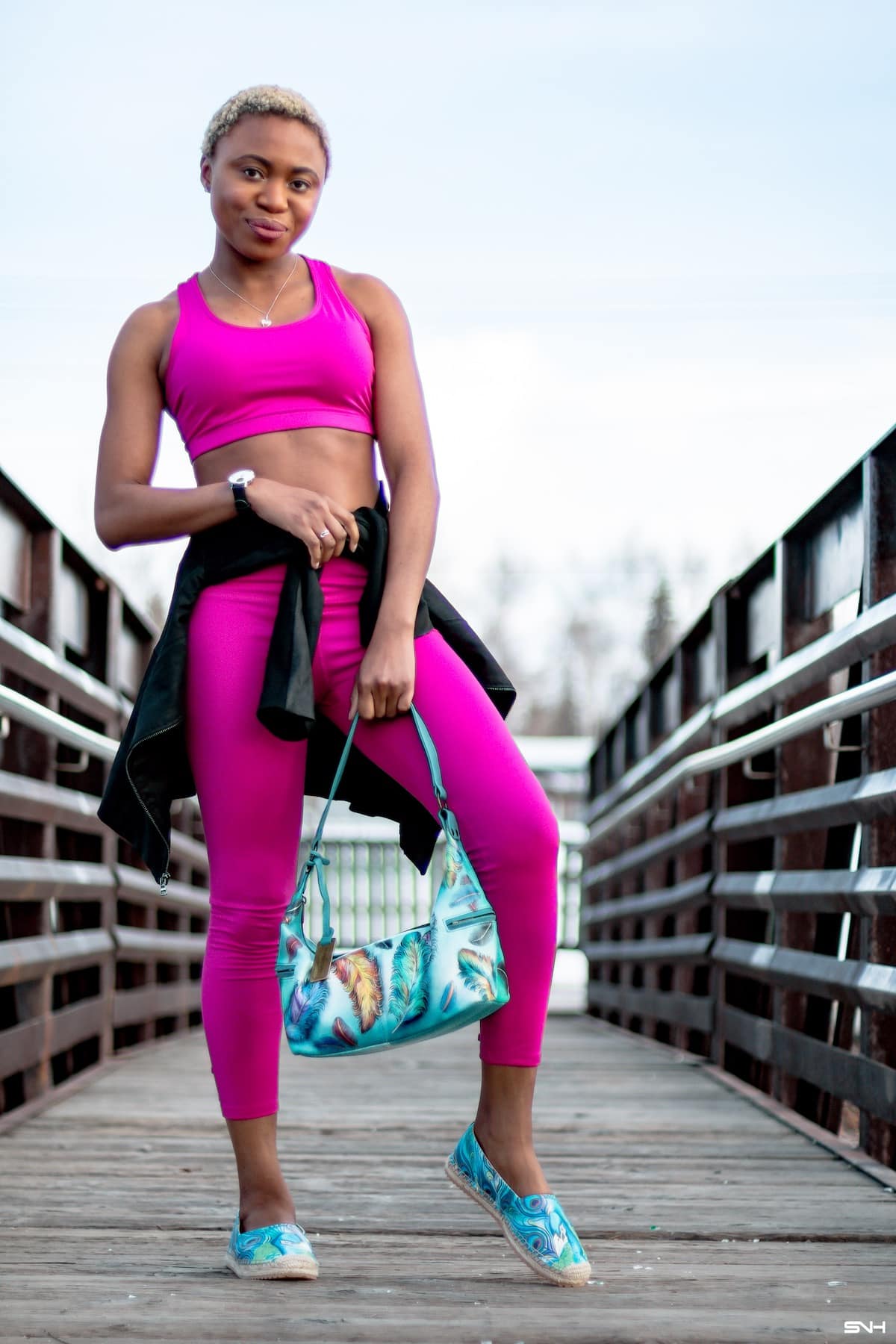 Introduction
Taking a look at their most popular collections, as well as their materials of choice, the fit and function of their sportswear, and other key features, it's time to get to the bottom of this long-running fight.
Let the battle commence!
Fabletics vs Lululemon Comparison Chart [At A Glance]
| | FABLETICS | LULULEMON |
| --- | --- | --- |
| PRICING | $49.95+ (for leggings) | $95+ (for leggings) |
| COLORS | Various | Various |
| COLLECTIONS | PowerHold, Motion365, SculptKnit, PureLuxe, Seamless | WunderUnder, Align, Energy, Scuba, Invigorate, Swiftly |
| ACTIVITY | Yoga and studio, running, gym and workout | Yoga, athletics, general exercise |
| BESTSELLERS | Leggings, sports bras, 3 piece workout looks | Scuba hoodie, WunderUnder high-waist leggings, Align crop pants |
Brand History: Lululemon & Fabletics
LULULEMON had its start in 1998 in Vancouver, as a primary retailer of athletics clothing founded by Chip Wilson. Though initially a single store focused on yoga wear, they subsequently expanded, opening hundreds of branches across the US.
Flash forward to now and they're one of the most successful proprietors of workout gear in the world, with a hugely popular site, nearly 500 physical stores, a flagship in London, and a series of lifestyle accessories alongside their sportswear line.
Most recently, they have bought shares in the world of at-home exercise equipment, funding over $500 million of the startup company Mirror.
That said, their primary focus right now absolutely remains on their fitness clothing lines, particularly their high-quality leggings.
As for FABLETICS, which was partly founded by Kate Hudson in 2013, they have always maintained a heavy online presence and are best known for their e-commerce. These days, they also have 22 brick and mortar stores across the US.
Though initially for women only, they launched a men's activewear line in 2015, and subsequently expanded their stock beyond athleisure to include dresses, swimsuits, and underwear in 2016. 
One of their number one priorities from the start has been to offer an all-inclusive range of sizes that fit everybody, which is continued to this day.
All of their lines are available in XXS-4XL, which remains far superior to many of their competing brands.
Feature Comparison: Lululemon vs Fabletics
STYLES/COLORS
Both Fabletics and Lululemon cater to a variety of tastes and preferences, as well as having collections for men and women that are equally as extensive. Regardless of your preference, you'll be able to shop comfortably at either store, finding clothes to suit you.
Likewise, there are hundreds of prints, patterns, and colors available on their various ranges, from bold blocks to fancy floral and wild animal print.
You'll also be able to find various finishes, from soft-touch to shimmery, across each site's collections.
In terms of distinguishing between the two, you should probably find another characteristic to help you make your mind up. When it comes to stylish, fashion-forward, functional sportswear, Fab and Lulu have it all!
QUALITY
Many LULULEMON leggings (and a lot of their sportswear) are made from their very own, in-house designed quality fabrics, known as Luon.
Combining nylon and lycra, it makes for ultra stretchy, yet cottony soft, and technically sound clothing.
They also have a range known as Luxtreme, which is intended for more high-octane, intense training, given its ability to soak up some serious sweat. With a smooth, cool-to-touch feel, and inherent moisture-wicking properties, it's a treat for your skin.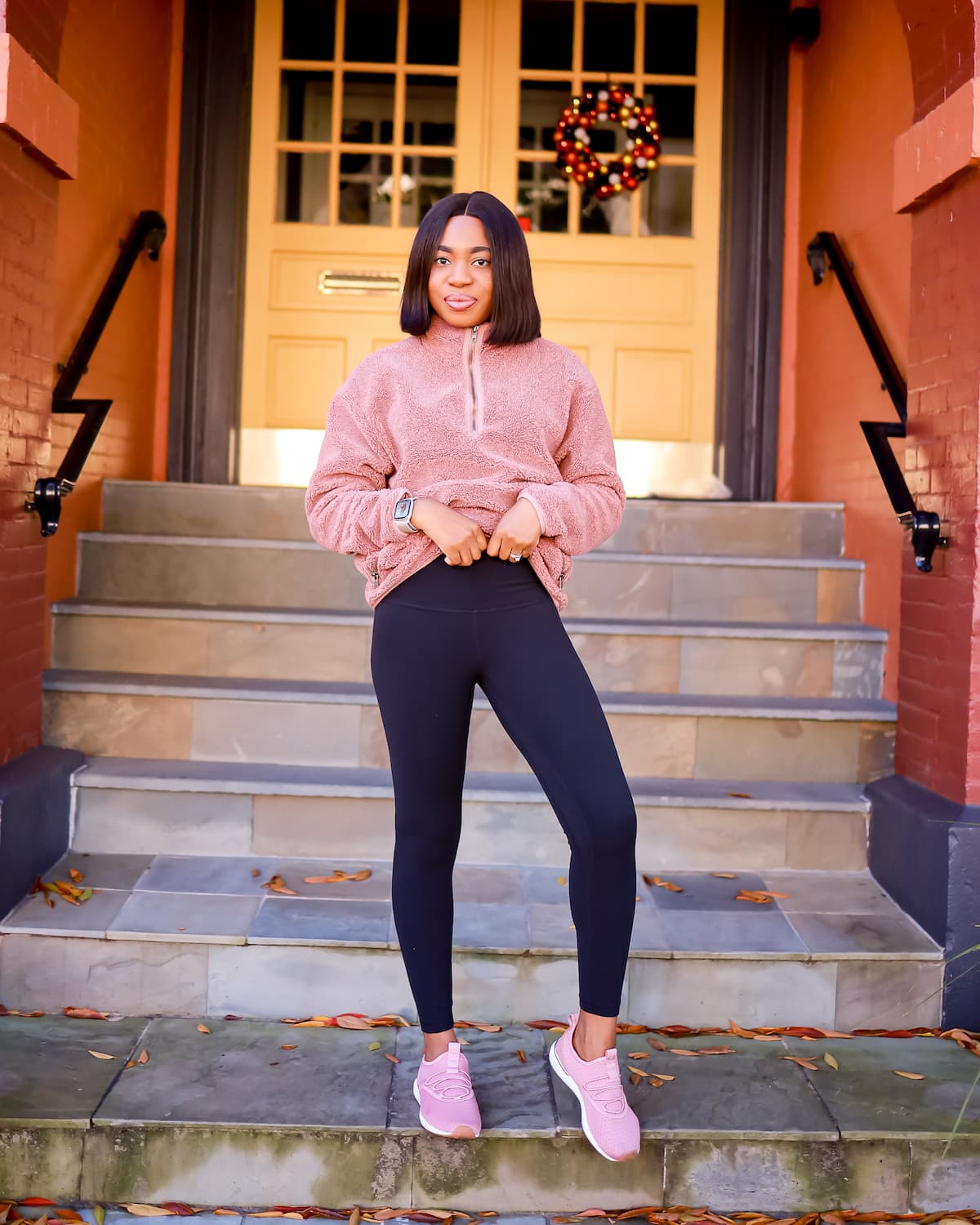 Primarily used in their lighter layers and t-shirts, the trademarked Vitasea fabric is a blend of Seacell yarn, cotton, and lycra.
Able to keep its shape and softness even after hundreds of wears and washes, it's a go-to for the gym bunnies amongst us.
There are even more materials used in their huge number of collections and clothes, each more innovative and stylish than the last. When it comes to quality, at Lululemon you most definitely get what you pay for.
My experience with Lululemon leggings so far: minimal fabric pilling, super soft, moisture-wicking, great compression (not as intense as Spanx leggings), and non-see through.
---
Finding this comparison post about Fabletics vs Lululemon helpful? You'll love these related posts:
---
As for FABLETICS, they also have a serious selection of different fabric designs throughout their various categories. Perhaps most popular is their PowerHold compression leggings, a poly-spandex hybrid that booty sculptors swear by.
For fuller movements and a complete range of motion – ideal for pretty much any activity – their Motion365 leggings also offer high compression, with additional breathability and moisture-wicking capability to fight back against sweat and stink.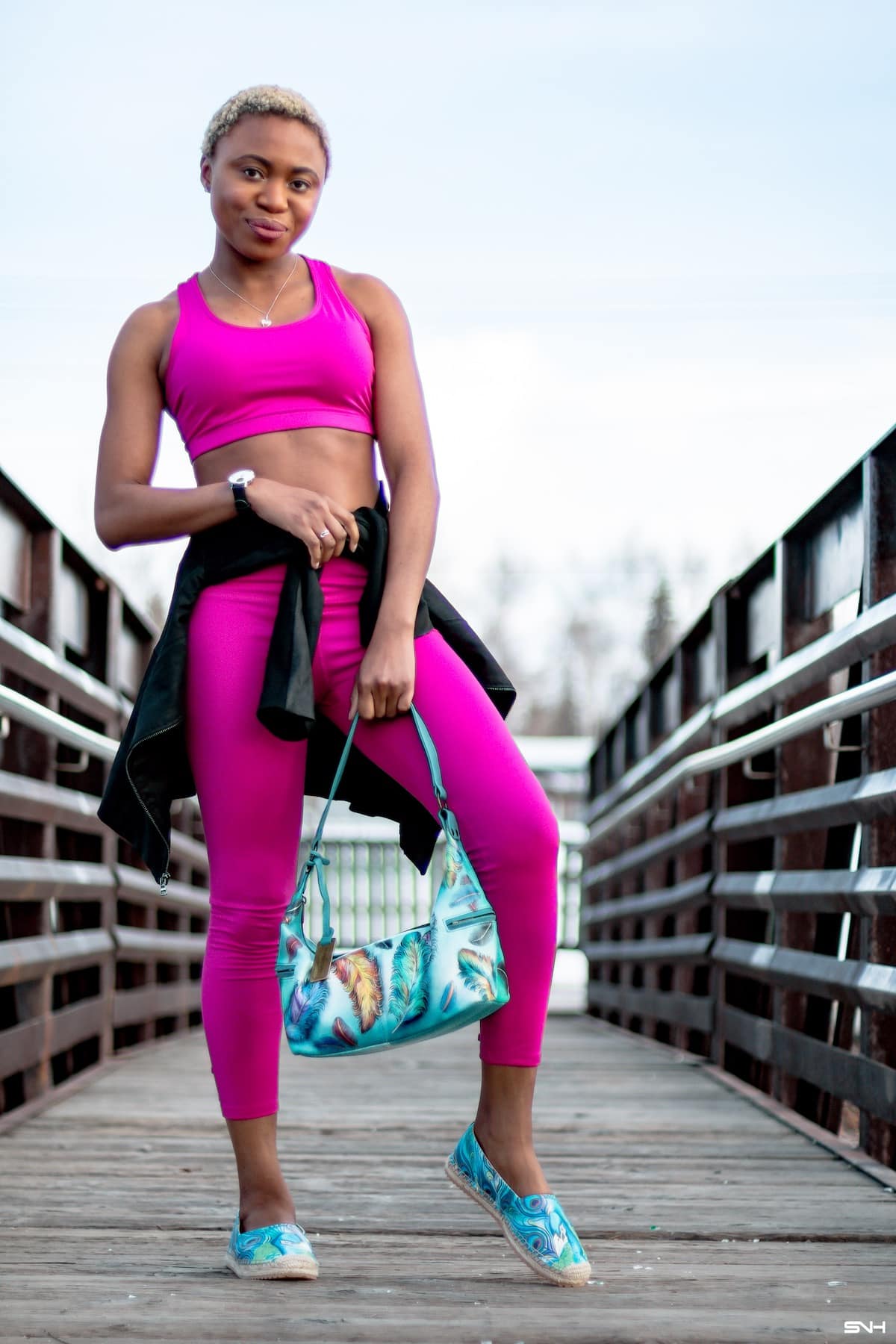 One of the original 'barely-there' triumphs, plastered all over Instagram, was their Seamless style, a blend of nylon and elastane that's perfect for yoga class or lazing around. Little compression, but lots of comfort, you won't wanna take 'em off.
Likewise, we've only scratched the surface of what Fabletics has to offer, so if you're after a characteristic, in particular, check out this complete guide to all of their fabrics. Don't worry, it isn't full of science jargon – you'll easily understand everything.
My experience with Fabletics leggings has been great. I love their diverse range of versatile athleisure pieces. Seriously, there is a style for everyone. I did feel like the tummy-control on two of the pieces I ordered via JustFab, their sister brand, was a little disappointing.
SIZING
At Fabletics, pretty much all of their products are available in a considerable range of sizes, from XXS up to 4XL. That's great news for the plus-size athletes reading, who should be able to secure some gear that's actually comfortable for them.
With Lululemon, their sizes used to range from US 2-12, though in some instances you could get certain items in sizes 0 or 14. Nowadays, they have a much better size range, starting at XXS and reaching 4XL, so athletes in any size can shop freely.
FIT
In terms of fit at Fabletics, as well as your size, you can also customize the inseam of their bottoms. Choosing between short, regular and tall, allows you to prevent uncomfortable chafing and ensure you get a fit that clings to all of the right places.
Likewise, you can also choose between high-waisted, Capri, 7/8, and other lengths, which again is another convenient factor that gives their sportswear some edge.
Some of their fabrics even allow you to cut to your own length, without any fraying!
With their in-depth size guide, you'll be able to figure out exactly which fits work right for you, whether that's for tops, bottoms, bras, or shoes. That, plus the customer feedback regarding fit on every product listing, allows you to buy with confidence.
One piece of advice that Lululemon offers is that their Luon fabric is designed to have a matte finish overall. Therefore, if there's a sheen that can reflect the light once you're wearing them, the fit is too snug and may restrict your movement.
You can choose between three lengths when it comes to their classic leggings: 25, 28, and 31 inches, each designed to sit comfortably at different points on your leg, depending on your height.
Though you don't have as much freedom when it comes to choosing a personalized inseam, they do offer a hemming service for free in all of their Lululemon stores, allowing you to achieve the perfect fit for you outside of traditional measurements.
PRICE POINT
The Fabletics prices vary considerably, depending on whether or not you're a VIP member. Those who pay the monthly membership fee get a considerable discount, including two pairs of leggings for an incredible $24. Wow, that's one affordable price!
With up to 50% off regular retail prices, it works out much more affordably that way, though of course, you are then a member.
You can cancel whenever you'd like, but you won't get to keep those VIP membership benefits, unfortunately.
However, even without that hefty price reduction, you can still score yourself an entire outfit of workout gear for the cost of one pair of Lulu yoga pants, which is a considerable saving. It's arguable that they might not last as many years, though…
Each pair of leggings that Lululemon sells are at least $95, which is pretty steep considering you can get two pairs for $24 as a VIP with Fabletics.
It's also very, very expensive unless you're planning on wearing them every day!
That being said, they do have a special section of their website that's permanently discounted. Known as We Made Too Much, you'll find major savings on a regularly updated, rotating collection of sale items, perfect for snagging a bargain.
Many, many customers swear by their resilience, arguing that they last years longer on average than sportswear from other brands. This is Lulu's justification for higher prices – invest a little extra, so you don't need to spend more on replacements.
Bestsellers From Both Brands
When it comes to Lululemon, there are several go-to pieces that athletes, men, and women alike, can't stop buying. The bestsellers from Lululemon are:

Over at Fabletics, they also have a page of their bestselling items. Here are some of their most popular pieces, which you're also sure to love:

In Summary: Fabletics vs Lululemon Which Is Better?
Deciding between these two iconic brands can be quite tricky if you're an average size and have money to spend.
Both Lululemon and Fabletics offer high quality, comfortable, and confidence-boosting clothing for all sporting occasions, with plenty of choices for everyday athleisure styles.

Lululemon has less in the way of plus-size ranges, which means Fabletics is better for those seeking a fit that suits them. However, Lulu's men's range is a lot bigger, with more to explore; that may just be the extra decades of experience they have.
Fabletics is definitely the more affordable of the two, particularly if you decide to join as a VIP member. It's totally acceptable to get your two for $24 leggings and cancel the subscription, so don't feel ashamed if you want to get a bargain and bounce.
Most customers who've tried both Fabletics and Lululemon would probably argue that Lulu's clothes are of a better, more long-lasting quality. I'll admit that I really really like my buttery-soft Lulemon Align leggings.

However, the Fabletics range of compression sportswear, and the sheer amount of choice within it, is popular with influencers and trendsetters. These are definitely better than basic chain store leggings.
If you're after athletic clothing that will make your body look incredible, and your Insta feed even better, you'll probably find that easier (and for less) with Fabletics. For leggings that will last forever, then sticking with the citrus of Lulu is your best bet.
Whichever you choose, by perusing their lengthy sizing guides and all of the customer feedback both sites offer, you're sure to find something to love. Good luck!
PRO TIP: With my JustFab membership, I have access to a great selection of Fabletics leggings, athleisure finds, and fashion. If you shop often for workout pieces, getting a Fabletics VIP membership might be your best bet. Just skip the month to avoid getting charged.

To score the best deal on Lululemon, wait for their Black Friday Sale or for one of the rare Lululemon Warehouse Sales. Alternatively, shop the We Made Too Much section of Lululemon's website to save some money.
Your Turn! Have you tried either brand? Lululemon vs Lululemon leggings and fitness pieces, which do you prefer?
If you liked this post about the Fabletics vs Lululemon activewear, you'll love these related posts: