7 Red Dress Outfit Ideas to Steal in 2023 for Different Occasions [VIDEO]
This post may contain affiliate links which means I will get a commission if you make a purchase at no additional cost to you. As an Amazon Associate I earn from qualifying purchases. Please read my disclosure for details.
If you already have your mind made up about summer, this post is for you (even if you're knee-deep in the snow like I am). I'm sharing seven red dress outfit ideas with you wearing this under $30 red shift dress I bought last month.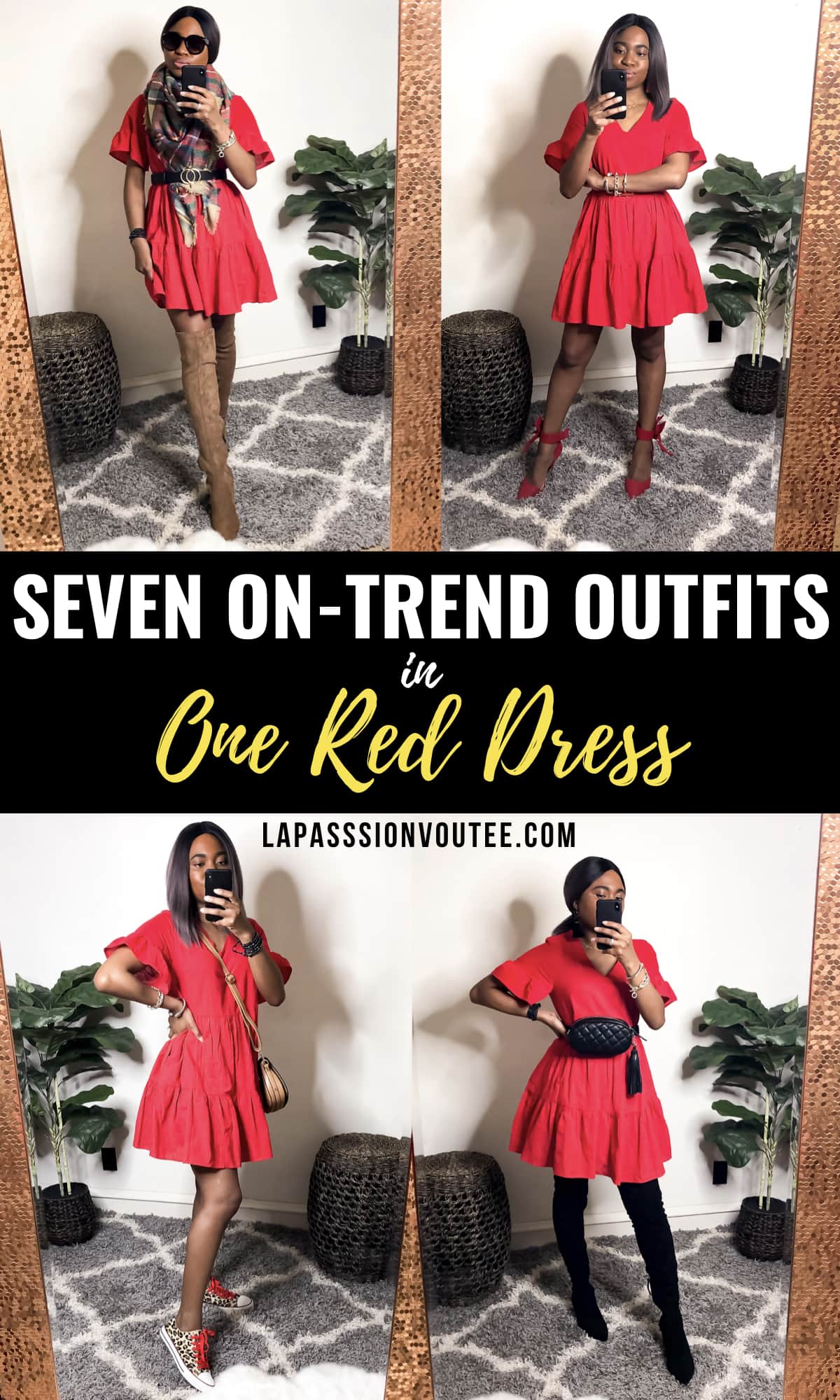 I first shared these looks on Amazon Live video broadcast but I know it's sometimes easier for readers to find everything in one central location. So if you're reading this post, this post is for you 😉


With these fun and practical red shift dress outfits, I'm sure there's a look for almost anyone. From the power look in an all-red monochrome red dress paired with stylish red bow pumps, and the cute and cozy oversized blanket scarf outfit paired with kitten-heeled over-the-knee boots to comfy, free-flowing look paired with an under $25 leopard print canvas and more.


A quick note about this under $30 shift dress. It is made from a soft cotton-blend fabric that feels like a cross between cotton and linen.



Although the dress runs true to size, I sized down to XS for a tighter fit due to the shift style cut. The dress is available in several different colors and sizes XS through XL (which might with my XXL ladies). The light pink, yellow, and white colors would be perfect for the upcoming Easter celebrations.


I've rounded up the key pieces I used to create each unique look for you below. And almost all the fashion finds is under $50 with most pieces at an affordable $25 price tag 🙂 Psst! These items ship free with Amazon Prime membership (free trial here). Click on an image for details.



For reference, I am 5″5 and roughly 135 lbs. I typically wear a size 4 (S) and 8.5/9 in shoes.


7 Red Dress Outfit Ideas to Try This Season
1. Sexy Red Shoes and Red Dress Combo
There is something tantalizing about a red dress and red shoe outfit combination. Red as a color is bold, daring, and vibrant. And a complete red ensemble demands these qualities (or the illusion of these qualities) when you rock a monochrome outfit as boisterous as this.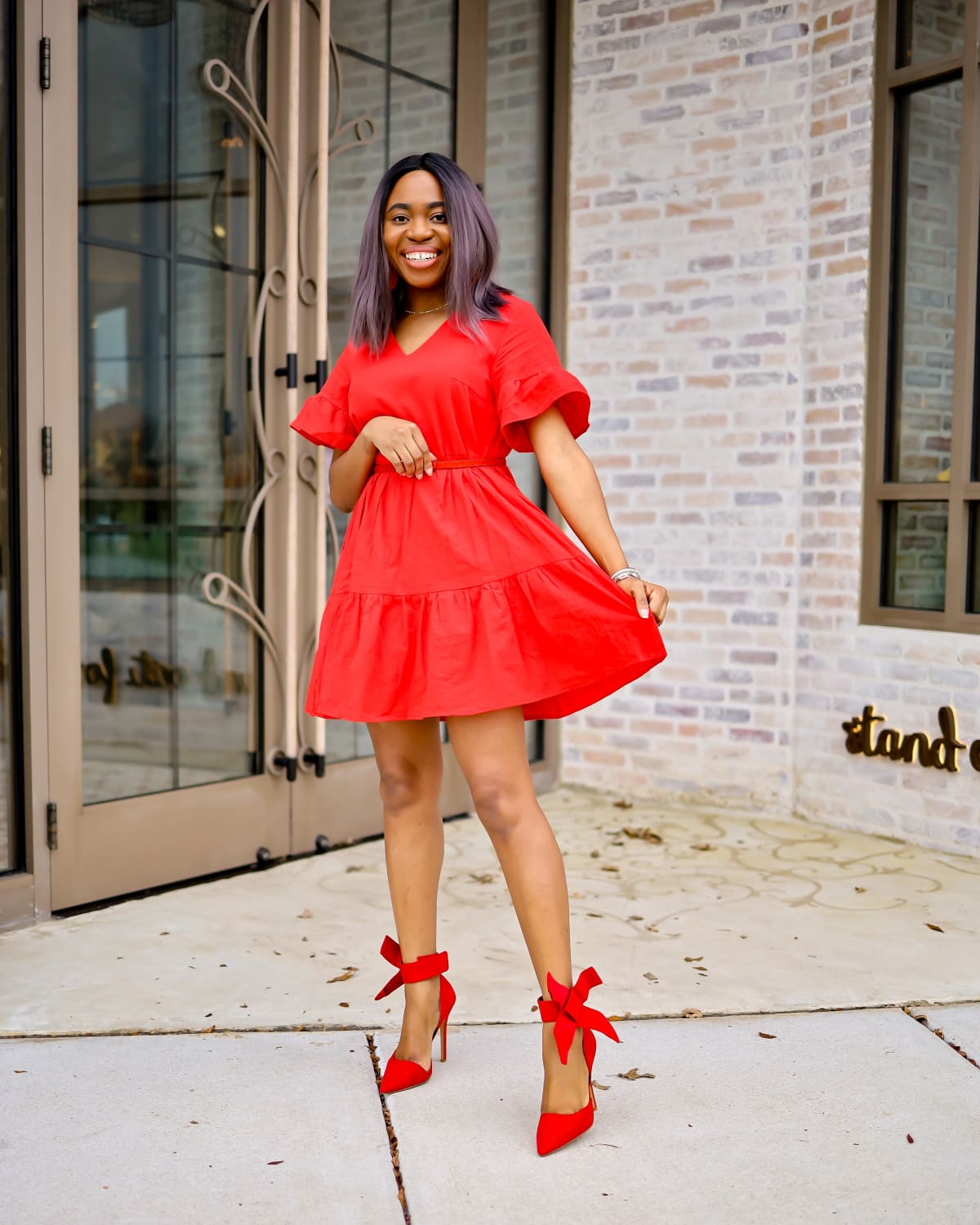 Because red is a "loud" color, the key to looking put together is to keep it simple. Truly less is more a red monochrome look. It is perfectly ok to play with the tone of red hues. For this sexy styling, an under $10 skinny waist belt, statement red bow heeled pumps ($35), and a light layer of stackable bracelets were the finishing touches I needed for this outfit.


If you prefer a more classic style, replace the red bow pumps with a pair of red open-toe heeled sandals like this or this.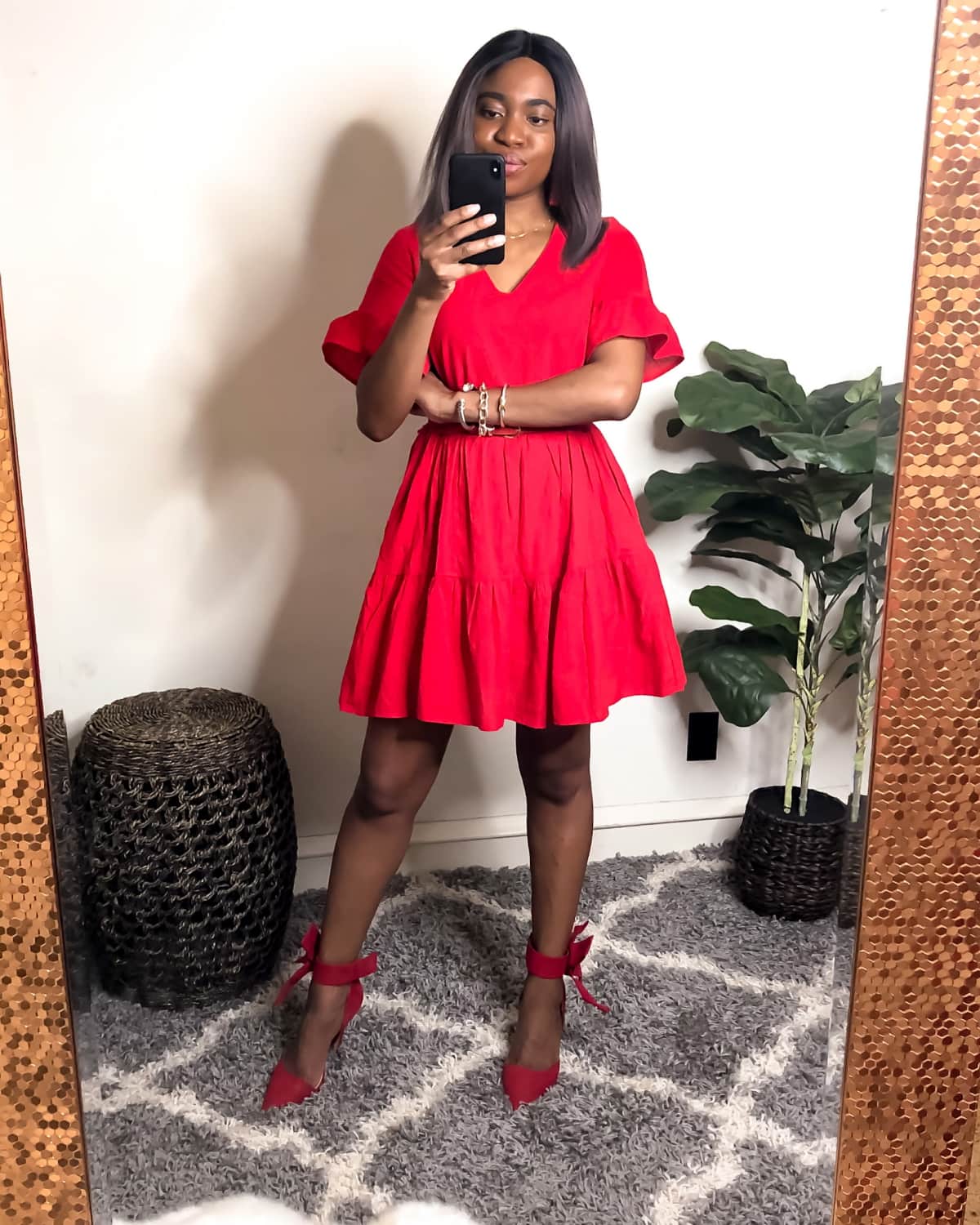 I am wearing a size small in the $27 red shift dress (available in seven more colors). My exact bow pumps are an oldie from JustFab that's available from a different retailer here. Also linked similar red skinny belt for you.


Shop This Look


2. Red Dress with Jeans Outfit
A question people often ask is, "can you wear a dress with jeans?" The answer is yes. In 2019, we saw a flux of sweater dresses and long shirt dresses with jeans outfits.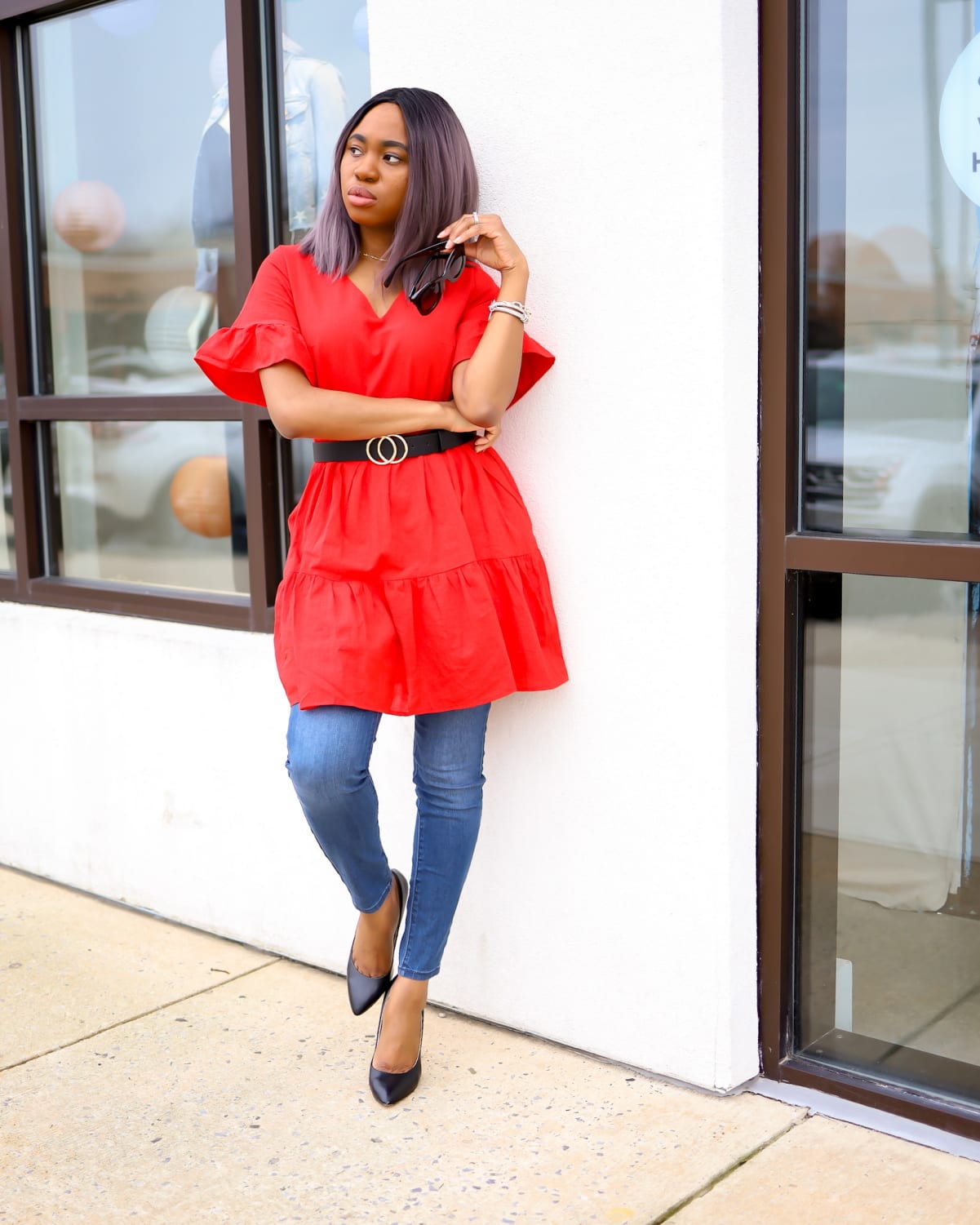 And not surprisingly, the style of a dress offsets the casualness of denim trousers creating a look that is unique yet easy to put together. The key is to avoid a fitted or bodycon dress over denim as those tend to draw the eyes to bulky areas around the jeans.


And if you're like me and often feel cold, take this look a step further by layering with a denim jacket like this one or a slightly longer lapel coat over the dress.


For this look, I paired this gorgeous red summer dress with an Old Navy Rockstar denim (mid-rise skinny leg jeans) in a size 2 as Old Navy jeans have a more generous allowance (read this review). Then I completed the look with a pair of classic black pumps and this $16 Gucci look-alike double-o belt.


This outfit would make a great style for work and even special occasions. You can also replace the jean trousers with black leggings or even a pair of tights if you want a softer or lighter fabric.


I defined my waist with the belt to create a seamless flow from a fitted top to a loose bottom with the jeans underneath – an hour-glass illusion.


And for accessories, I went with minimalist wired bracelets, this Victoria Emerson look-alike wrap bracelet, and a simple necklace worn as a choker.

Shop This Look


3. Red Dress with Animal Print Shoes
This roundup would be incomplete without sharing one looking wearing a red dress with animal print shoes. With red being a bold color, there's a concern or fear that pairing this vibrant color with daring animal print patterns like leopard print shoes might be too heavy on the eyes. In truth, it is a delicate balance.


While I probably wouldn't opt for a pair of leopard print thigh-high boots, these bold prints with red show a level of sophistication. I replaced the white lace that came with these low top canvas with these red shoelaces (comes as a pack of 16 for $9!). Other great options include open-toe heeled sandals, animal print pumps, and leopard print wedges.


This red shift dress paired with youthful canvas would be great for running errands, summer bbq (or buffet) and a preppy school look. I wore my Chloe-inspired ring bag as a crossbody style.


I prefer a tight-fitting style so I sized down to an XS in the dress. If you love the relaxed look of a shift dress, get your usual size and you won't be disappointed.


Shop This Look


4. Red Dress with Jean Jacket
A blue jean jacket perfectly offsets the solid red dress in this outfit. This outfit combination is great for summertime events like concerts, movie nights, or date nights because it is easy, laid back and an extra layer of warmth that can be worn if the weather suddenly gets cooler than ideal.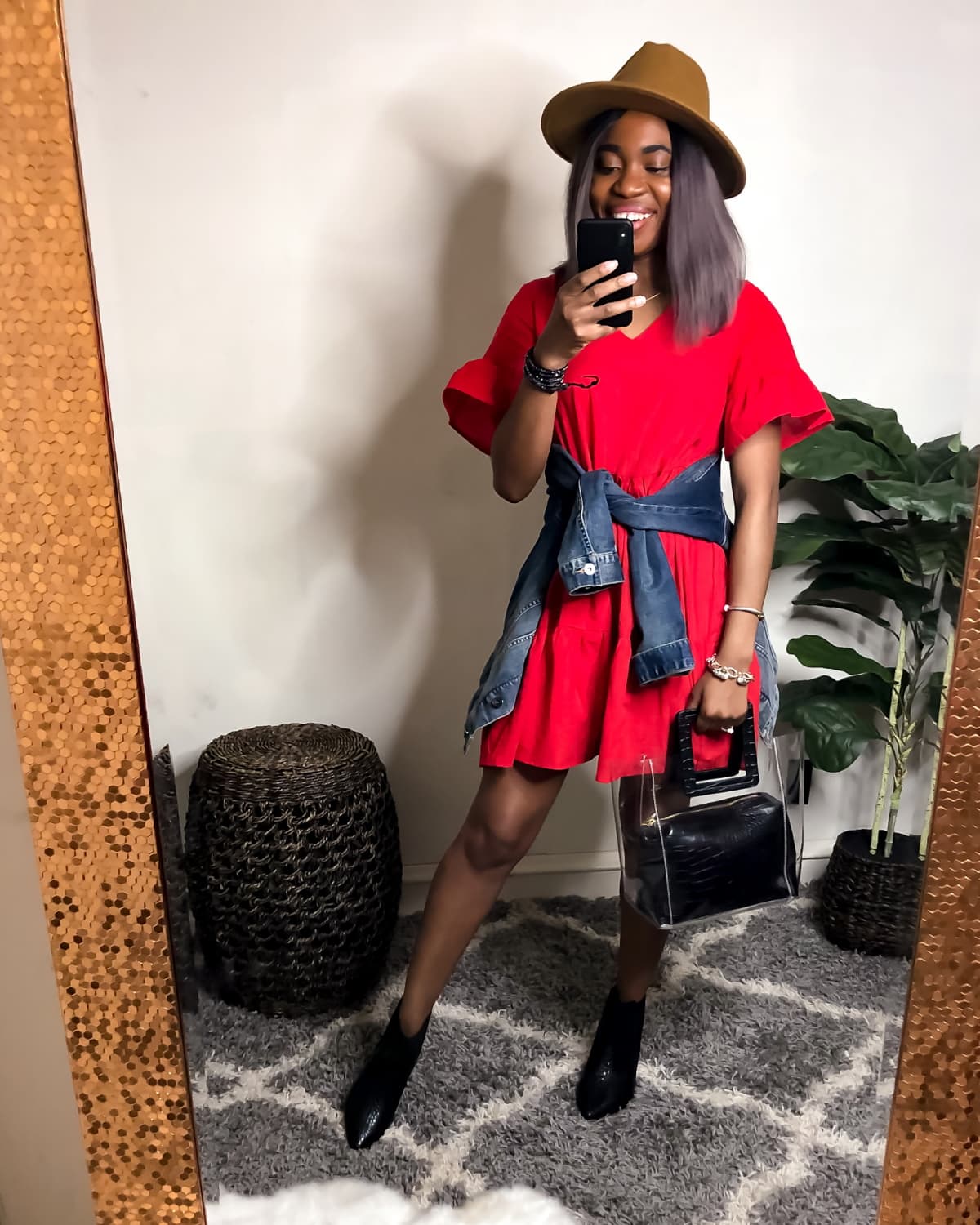 And if you feel inspired, you can channel your inner cowgirl by combining the same red ruffle dress with an Amazon-brand denim jacket, $16 top-selling brim hat with a pair of croc-embossed booties and matching clear tote for texture.


Shop This Look


---
Interested in more fashion finds? You'll love these posts:
---
5. Red Dress with Blanket Scarf
This is probably one of my favorite looks from the bunch. If you're still fighting the cold, I'm looking at you Alaska, rocking your little red dress with an oversized blanket scarf is a surefire way to stay warm and cute.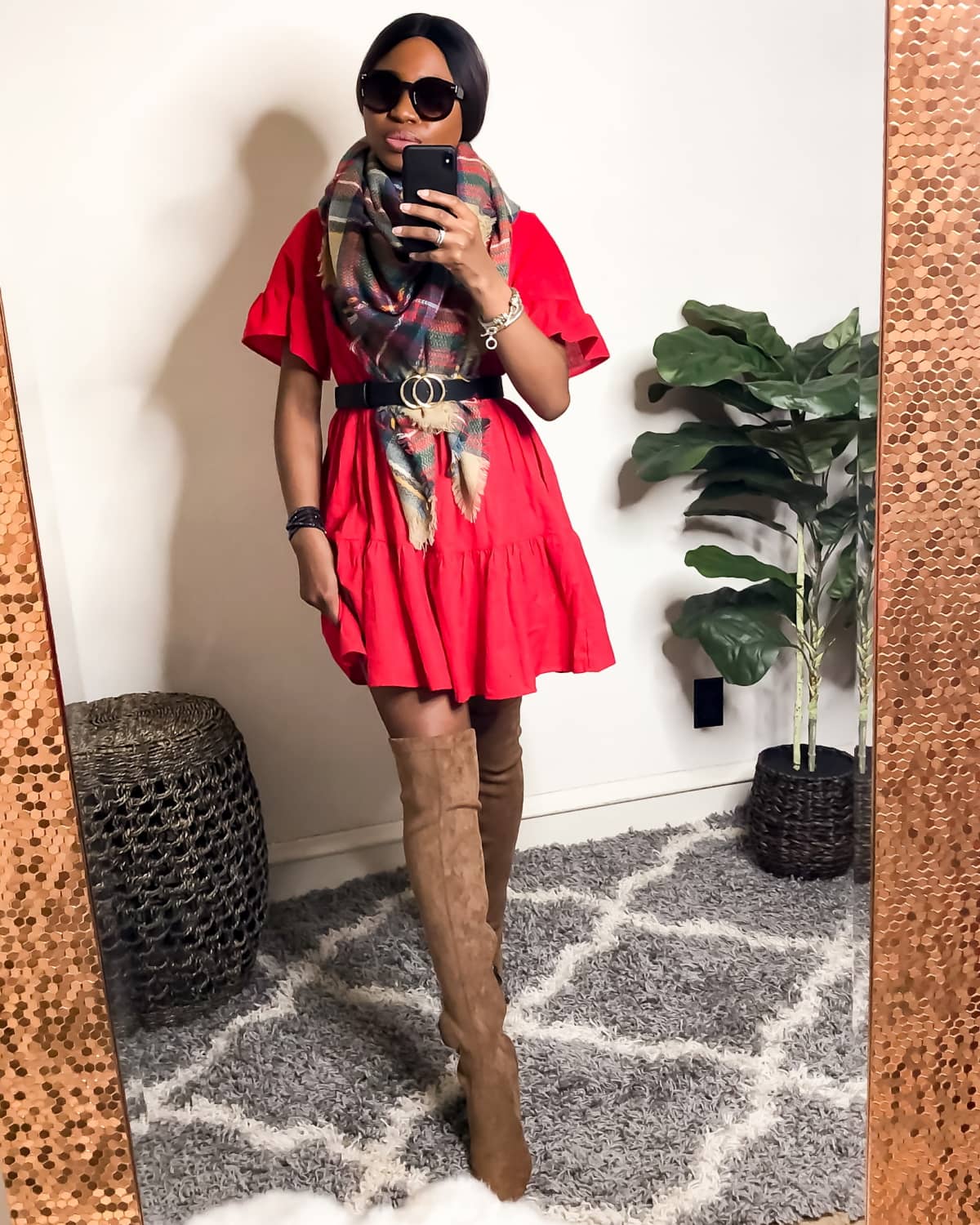 I held my tried and true $9 cozy scarf in place with an on-trend double-o belt. And kept my legs protected from the chill with the softest suede thigh-high boots (runs true to size).


For a little arm party, I stacked on two bangles and one adjustable bracelet on one arm and a coordinating black wrap-around bracelet on the other arm. And for a touch, I put on these Karen Walker look-alike sunnies.


Shop This Look


6. Red Dress with Black Thigh High Boots
One of the easiest red dress combinations is to rock your red dress with black shoes like heels, pumps, booties, and thigh highs (similar). But for a little spin on this classic style with a modern touch, recreate a look that features the fanny pack trend.


If you're obsessed with this new trend or just need styling options for your belted waist bag, rock this style. This look features the same mini dress with classy over the knee boots and cute chandelier earrings. The quilted waist purse creates a seamless look with the OTK boots and black iridescent bracelet.


Shop This Look


7. Shift Dress with Head Wrap
Last but not least is a look for the babes who can't live without their headwraps. If you've been following this blog for a while, you already know that head wraps and African print clothes are two of my favorite clothing pieces. But sometimes it's hard picturing outfit pieces in these distinct style/fabric.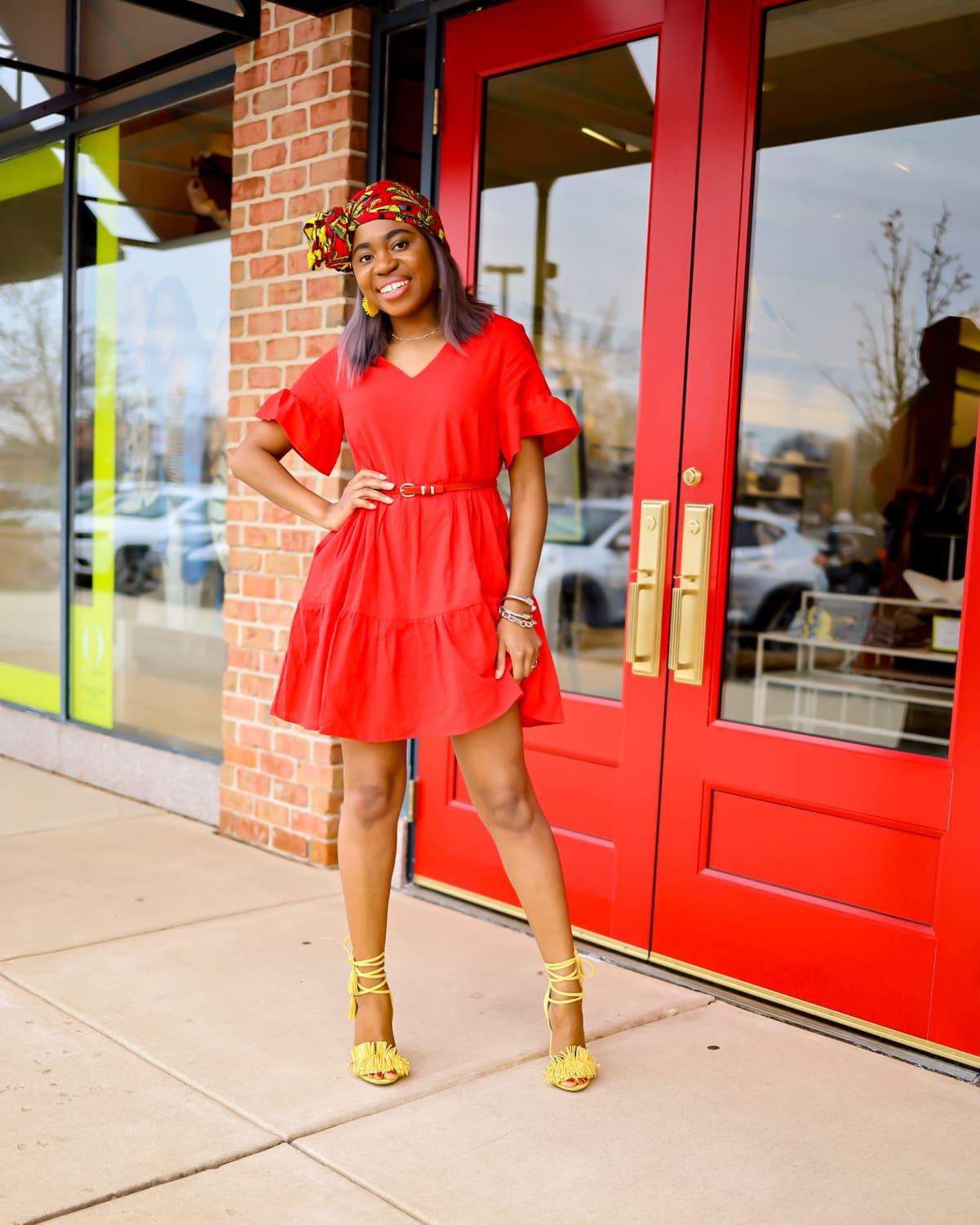 Playing off the red color of the dress, I chose a red/yellow ankara scarf (similar). I tied my wrap as a side bun to reveal those cute $8 beaded earrings. On my waist is a metal bow belt (similar) that complements the color scheme. And threw on these statement fringe heeled sandals.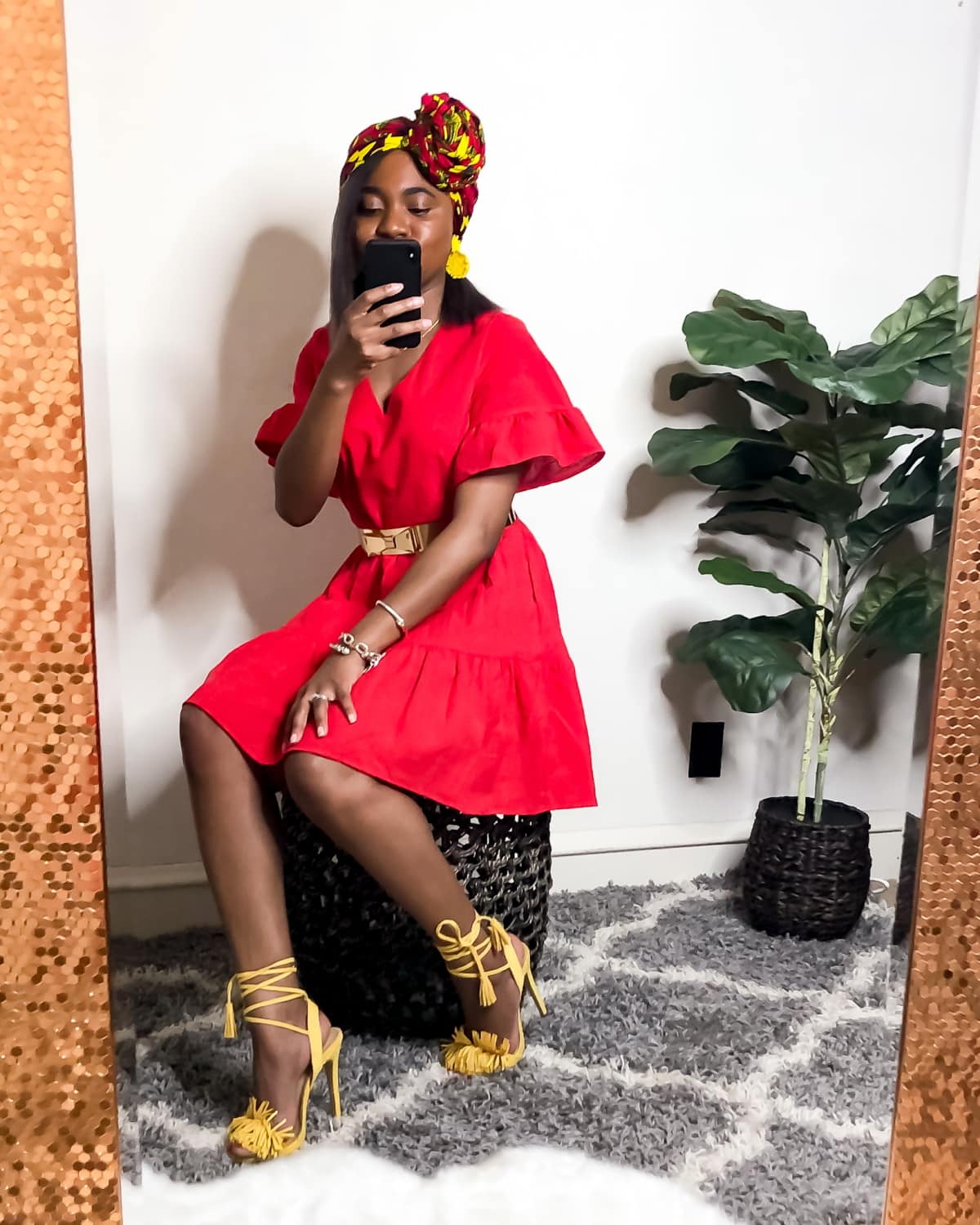 This outfit is a sure way to get noticed in the crowd. The colors scream confidence, the ankara headscarf draws some attention to your face, and the fringe sandals add a pop. For a more subdued look, switch the colorful scarf for a solid black head wrap and the yellow sandals for nude or black.


Shop This Look


Who would have thought that there would be so many ways to wear one $27 dress! I hope you enjoyed seeing these seven red dress outfit ideas and some a look or two that you can easily recreate for yourself. You can also watch the video walkthrough on my thoughts on each look.


Frequently Asked Questions about Red Dress Outfits
What goes with red dress?
Almost any color pairs well with a red dress. For a pop, try white or yellow or black or brown as safer options. For jewelry, gold is an irresistible combination and white gold jewelry makes for an interestingly refreshing combination.
What jacket goes with red dress?
What color heels go with a red dress?
While you can do no wrong in a pair of black heeled sandals, nude or silver-tone open-toe heels will make you stand out from the crowd. Need to make a bold statement, try gold or yellow.

Getting excited for Spring? We've got you covered at Nordstrom!
I've teamed up with a group of bloggers to give one lucky winner
a chance to win a $600 Nordstrom Gift Card!
To enter: complete the steps in the rafflecopter below. The more steps you complete,
the more entries you receive, and the better your chance at winning!
This giveaway runs until Wednesday, March 11th at 12am PST
Winner will be announced here. Good Luck!
*this giveaway is in no way sponsored by Nordstrom.
PIN FOR LATER!