Why Are Tieks So Expensive? 11 Reasons You Should Know!
This post may contain affiliate links which means I will get a commission if you make a purchase at no additional cost to you. As an Amazon Associate I earn from qualifying purchases. Please read my disclosure for details.
Heels give classy it-girl vibes when you walk into a room. But not everyone wants to, likes to, or even enjoys wearing heels every day. Let's not overlook comfortable flats we can strut around in.
Enter Tieks. Ever heard of this brand?
Aside from their reputation for having a split-sole design, their luxurious price tag caught my attention the most.
Seriously now, $300 for a pair of shoes? What could they possibly be made of?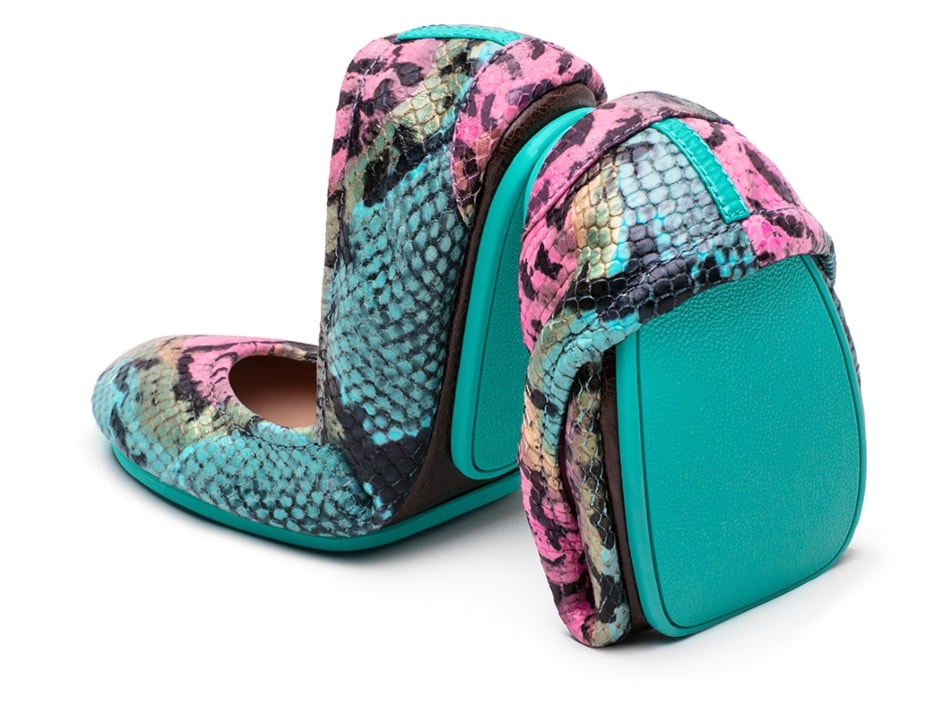 Don't stop scrolling now! Cause we're about to discover the secret behind Tieks' expensive prices. But first, let's get to know the brand.
These Italian-made flats were invented by the Gravieli brothers, Dikla and Kfir, way back in 2008. They wanted to craft a versatile shoe you could carry in your purse that is comfortable when worn.
Who could've guessed that that was the start of a new journey in their lives?
Now, these flats are known far and across as the most coveted portable ballet shoes in the land.
But for a price tag that can make your wallet have a seizure, these shoes MUST pack a punch (no pun intended).
Ready? Here are the 11 reasons why Tieks are so expensive.
Why Are Tieks So Expensive?
1. High-Quality Materials
Each pair of shoes from Tieks are made from supple, high-quality leather from Italy. This type of soft leather is known for being durable and long-lasting.
That only goes naturally, especially for flats that command quite a hefty sum.
They are made with textiles and Italian leather that molds to the shape of your feet, ensuring a comfortable experience.
And Italian leather alone is very costly to purchase. Based on my research, it is now between US$ 6.8 and US$ 36.28 per pound(lb).
In a sense, their premium materials are one of the causes of their hefty price.
2. Handcrafted
Did you know? It takes about 3 days and more than 150 steps to create a single pair of Tieks flats! I didn't!
Skilled artisans handcraft and hand-stitch each part of the shoe with keen attention to detail.
Unlike other shoe brands and factories that produce Tieks knock-offs, original Tieks are not made using machines.
The creation of these top-tier and high-quality flats was made possible through handmade processes.
And when it's not mass-produced, know that it's gonna cost an arm and leg.
3) Made in Italy
In addition to using the finest leathers, Tieks shoes are created in their main factory in Italy, where the cost of living is much higher.
This means that the brand most likely hires Italian craftspeople who also require higher wages, so naturally, finished pairs of shoes are more expensive.
Additionally, Italy's renowned for its expertise in craftsmanship. Shoe enthusiasts and regular buyers alike are always on the lookout for that "Made in Italy" tag.
So while Italian-made products may carry hefty tags, the assurance we get knowing they were made by the most skilled in the field is priceless.
4. Flexible Sole
Tieks use high-density foam in their insoles that conform to the shape of your foot for customized comfort and support.
They can be folded and unfolded numerous times thanks to a specially treated brown leather midsole that is both flexible and strong.
You could always opt to change your shoes at midday, especially if you're wearing heels and want to change into comfortable shoes, knowing that you can fit these flats into your purse.
How convenient is that?!
This unique design is part of the reason why Tieks are so expensive compared to regular flats.
5. Comfort
Tieks' shoes must undergo meticulous processes to deliver that unparalleled comfort they're known for.
Each pair of flats features a cushioned back and non-elasticized heels, allowing for a softer touch with the foot.
The leather upper is constructed from a single piece and is designed to stretch and mold to your foot shape. Tieks flats won't ever feel too tight, even if you have wide feet.
Walking has never felt this good. It's like having a masseuse on the go!
And this said masseuse will cost you a lot for its service.
6. Versatility
One of my favorite things about Tieks is that there is a wide range of patent leather designs and prints that you can choose from.
Whether you're out for a coffee date or just going on about your day, there's a perfect pair of flats for you.
Have you seen their range of colors? You can choose any color from the color wheel, and Tieks can provide it!
The versatile style and colors offered by their ballet flats are also one of the factors contributing to Tieks' luxury tags.
7. Patent Design
Tieks is one of the early shoe brands to feature foldable flats with cushioned heels. The brand's originator, the Gavrieli brothers, developed the idea for shoes that can help save storage during travel.
Designing a shoe of this kind requires extensive research and development to actualize it and its patent.
In fact, brands claiming to offer cheap shoes similar to Tieks have faced lawsuits against their US patent design.
This commitment to design and innovation also adds to the cost of production, leading to a higher price point for the shoes themselves.
8. Limited Availability
Tieks prioritizes quality over quantity. This results in a higher retail price due to the limited availability of certain Tieks designs.
Check out some of their limited editions:
Another popular example of this is the Tieks Black Friday tradition. Every year, Tieks releases a limited-time ballet flat that gets sold out within hours!
This desirability for limited editions causes Tieks' prices to rise, no doubt about that.
9. Vegan Options
While most Tieks are made from Italian leather, guess what? They also offer vegan options.
They have five styles of non-leather ballet flats: Greystone, Silver Lake, Brentwood, Echo Park, and Sunset Stripe.
Tieks understand that people are also aware of the environmental impact of their purchases. That's why they took the initiative to launch a collection that helps conserve our environment.
They want their consumers to be confident in buying these beauties knowing they are saving the planet at the same time.
And when brands adhere to sustainable and ethical practices, it usually costs them more. In return, that cost trickles down to shoppers. But we all agree that it's worth it, right?
10. Brand Name
Tieks has built a reputation as a luxury shoe brand that offers high-quality, comfortable, portable, and stylish flats.
You know the scale of a brand's reputation is no joke when Oprah herself swears by it.
In her words;
Though I'm grateful for the blessings of wealth, it hasn't changed who I am. My feet are still on the ground. I'm just wearing better shoes.

Oprah Winfrey
Tieks has been consistently on her "O List" now. Talk about brand loyalty, huh?
Take a look at her faves:
Buying expensive pair of flats from Tieks also means buying the name associated with it.
And this reputation has allowed them to charge luxuriously for their products.
11. Packaging
If you thought you'd only get a pair of Tieks inside a basic box when you ordered, you're highly mistaken.
Have you ever seen their iconic box? If not, here it is for reference:
Every Tieks ballet flat is delivered inside its signature blue box, adorned with glittered and jeweled Tieks flower at the top.
Inside that box, aside from the Tieks, are a reusable nylon tote, compact pouch, "thank you" card, and a care card.
Now that's certainly a treat!
When that question "Why are Tieks so expensive?" pup up in your head again, remember that their packaging also pitches into that price as well.
The Best Tieks Ballet Flats to Buy First
I bet now you're convinced that Tieks' prices are reasonable. And I also bet you're itching to try it for yourself or add it to your cart.
Here are my recommendations on which pair of Tieks to buy on your first purchase or what to put in your cart.😉
Classic style Tieks are one of the most popular, simply because they're versatile flats that can elevate any look.
This Ballerina Pink ballet flat is also made of full-grain Italian leather.
That subtle pink color adds a feminine touch to any outfit and will certainly turn people's heads when you walk past.
Silver Lake Tieks is one of the vegan Tieks that I mentioned earlier.
Unlike classic style or patent Tieks, these flats are made with the finest European textiles.
It is non-leather but still features the same non-elasticized heels as other designs.
I'm a big fan of cute shoes and fancy flats. And when that shoe has that certain chic flowery design, best believe that it will be at the top of my to-buy priority!
And this, this Rose Garden Tieks, is what I'm talking about!
Coming in hot from their vegan collection once more; the Brentwood Tieks.
This neutral-colored bad boy is a versatile flat that you can pair with almost every outfit.
I present to you the Matte Black Tieks.
This timeless piece should be in every girl's purse. These ballet flats exude simplicity and elegance no matter how you look at them.
I, for one, would want this to accompany me on any walk.
Is Tieks Worth The Money?
Yes, Tieks is worth every penny. These reviews are proof enough for that.
They're specially made with 100% Italian leather and even vegan materials sourced responsibly from Europe.
You can guarantee that pairs of shoes from Tieks can maintain their shape and appearance for a long time.
But hey, it still depends on everyone's preferences and experiences on how they see something as worth it or not.
If you want a stylish and comfortable pair of flats, Tieks can definitely be worth its steep price.
But if you want to resort to budget-friendly flats, that's also awesome!
Tieks: Splurge or Save?
While I've outlined why Tieks has expensive shoes, you might still wonder where to find the perfect pair without exceeding your annual shoe budget.
No worries, I got you! I compiled a list of great Tieks alternatives that will leave you and your wallet happy.
Check these out:
Not enough? Here are some more:
FAQ About Tieks
Final Thoughts
And that's it, folks, the top 11 reasons why Tieks flats are quite pricey.
For a quick recap, Tieks is expensive because you pay for portable, durable, versatile, and comfortable ballet flats.
And the fact that the brand offers both leather and non-leather options? The care they have for our environment is totally invaluable.
Tieks can easily become your favorite pair of shoes, even if they come with a higher price tag.
Personally, I'd really feel like I'm missing out on something if I don't get that split-sole experience.
How about you? Is Tieks a yay or nay? Let me know in the comments!
Not a Prime member yet? Get all the perks of Amazon with this Amazon Prime 30-Day Free Trial. Are you a student? Lucky you! Use this link for your Prime Student 6-month Trial.