The Only Ankara Jacket You Need Right Now
This post may contain affiliate links which means I will get a commission if you make a purchase at no additional cost to you. As an Amazon Associate I earn from qualifying purchases. Please read my disclosure for details.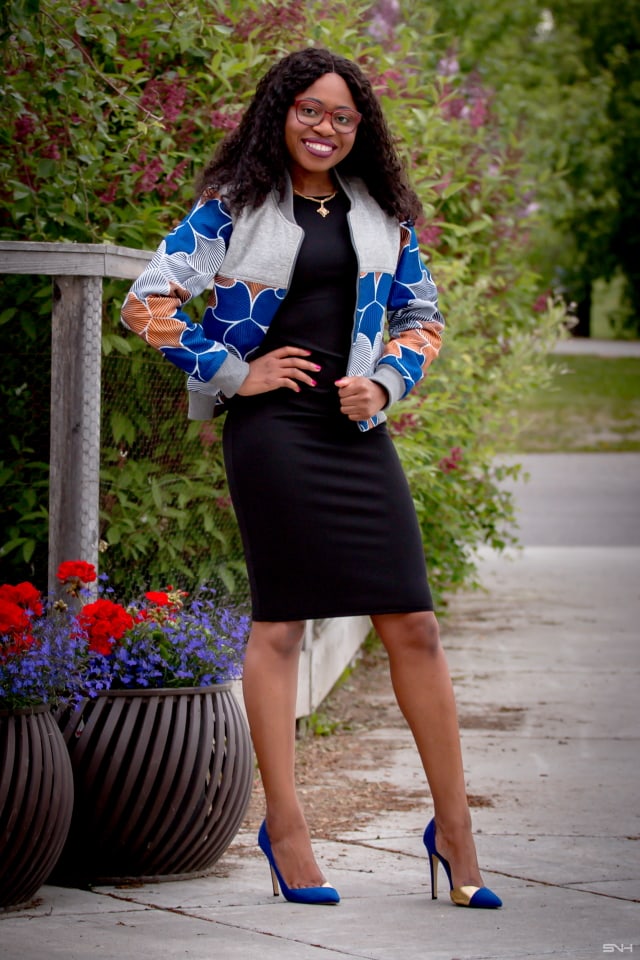 Happy Friday, friends! It has been another rainy week in Fairbanks. As an Alaskan fashion blogger, I'm always tempted to refer to my location as Alaska.

Shop The Look

But Alaska is five times the size of Texas. So often times, an eerie weather in Fairbanks does not cut across to other areas in Alaska like Anchorage, Juneau, and Sitka.
With how small the town of Fairbanks is combined with my diverse blog audience, I was pleasantly surprised to run into a lady at the gym who told me she was a blog reader and Pinterest follower. Such a small world!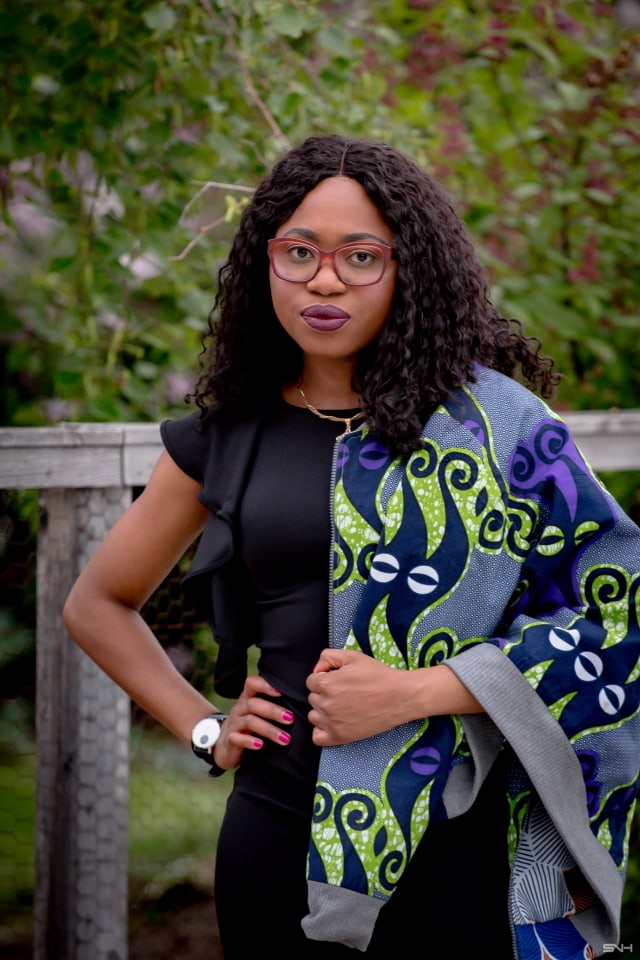 Besides how chilly the weather has been since the end of August, I personally think we hit full-blown fall season last week when all I saw was rich yellow and orange leaves. It was magnificent!
Thankfully, Michael and I were able to shoot some stunning photos capturing the very essence of fall in Alaska. Then it rained 🙁 Most of the leaves are now and the ground. So the weather is back to looking dreary.
Today, I have this practical ankara jacket to share with you.
As the weather transitions from summer to fall, I find myself reaching for warmer clothes like this pink sweater outfit and even this gray sweater outfit. Completer pieces like cardigans and vests are quickly becoming my best friend.
You've seen me style this bomber, designed by Boriah Clothiers, in previous style posts. Ever since I ordered this jacket from my sister, the owner of Boriah Clothiers, I've had a reversible ankara jacket on my wishlist.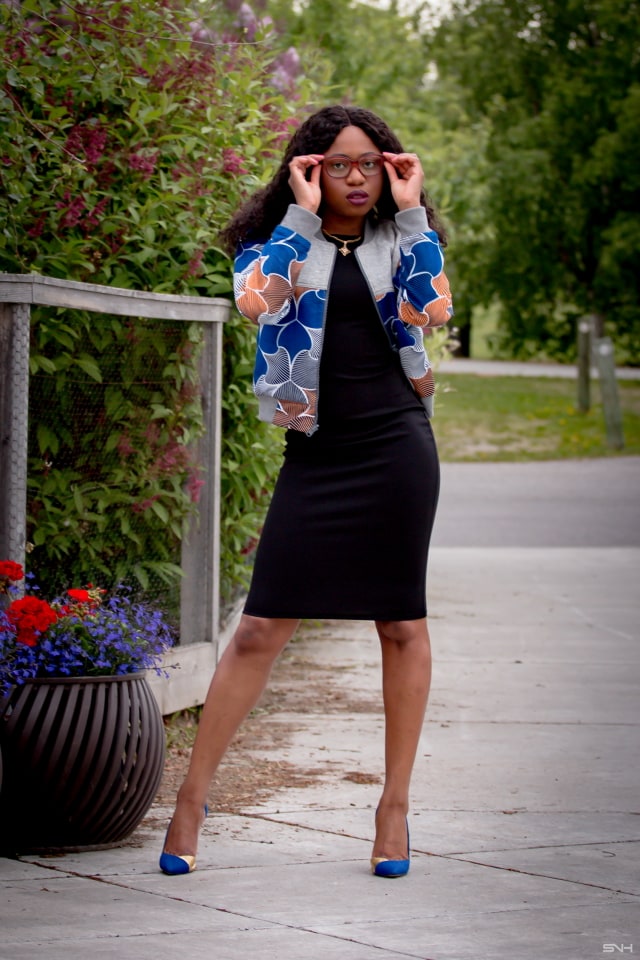 This summer, she caved and gave in to my request for a custom reversible African print bomber jacket. I placed my custom order for this latest ankara bomber through her Etsy store.
Each bomber jacket is handmade in her boutique in Nigeria, West Africa. I chose the African wax print I wanted for each side of the reversible bomber from her collection of wax fabric.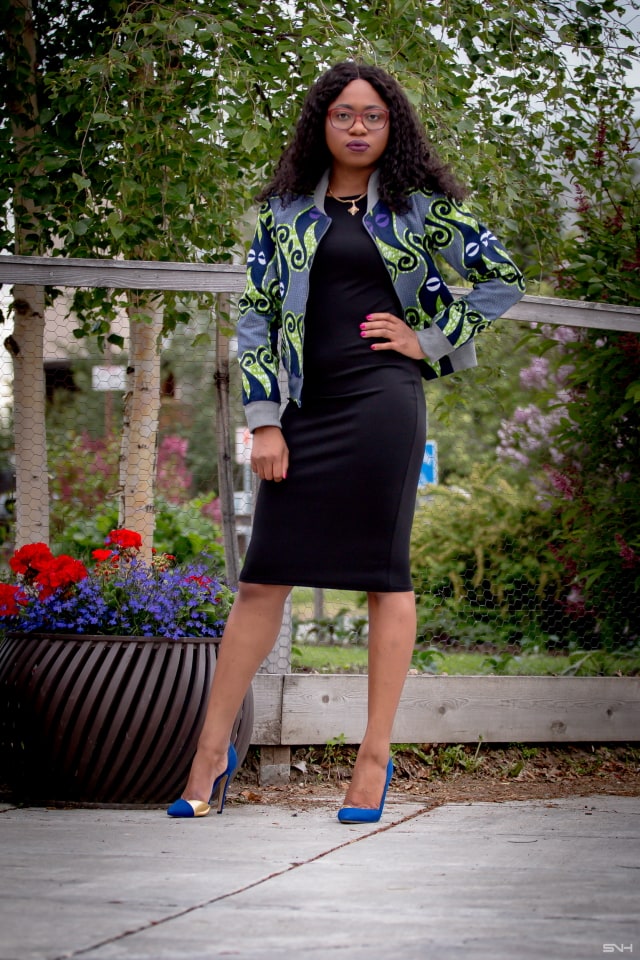 Although the ankara jacket is fitted at the waist, I personally requested that this ankara jacket be a little bit roomier than the first bomber to mimic the appearance of a varsity jacket.
Also part of this series:
Besides the use of premium wax print that are different but complement each other, I love the thickness of this ankara bomber. Boriah Clothiers must have layered the fabric or padded the jacket to add bulk like that of a nice varsity jacket.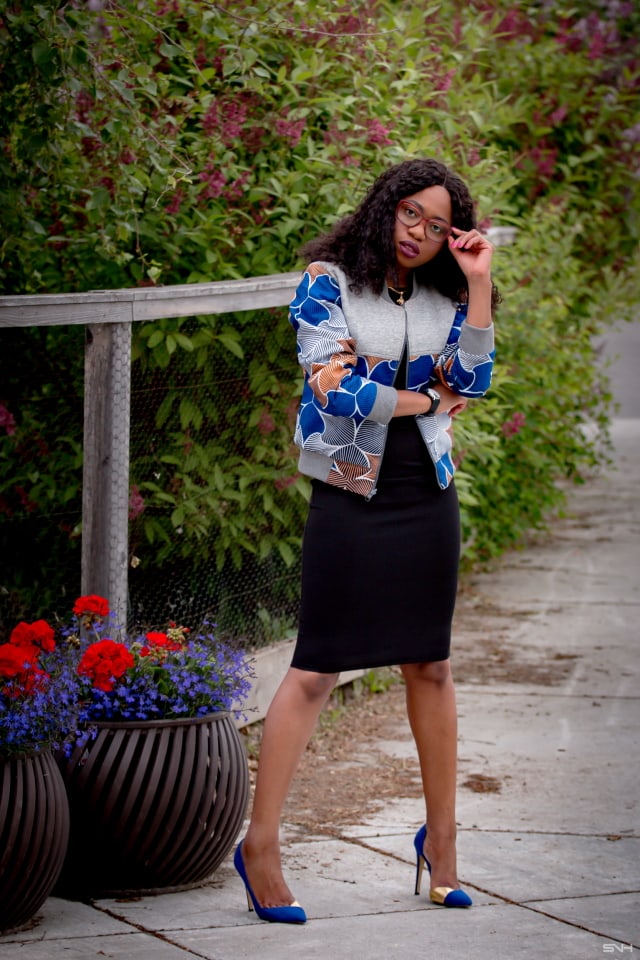 This reversible African print bomber jacket came in handy throughout the week.
In case you're wondering, I shot this outfit on a cool summer evening. But, I held onto the photos since most of the lower 48 was experiencing heat storm-like weather. Hence, the beautiful summer flowers.
African print dresses hold a close place to my heart. And African print jackets like this African print kimono I wore during my 30 days of African fashions series, are a close second.
The reversible design of this latest ankara bomber makes the jacket a versatile option for your cold weather needs. The ribbed cuff makes it easy to pull up the sleeves for a three-quarter cuff look. The zipper is completely detachable too. Both sides of the African print jacket has pockets for convenience. You can order a similar non-reversible bomber from custom quote.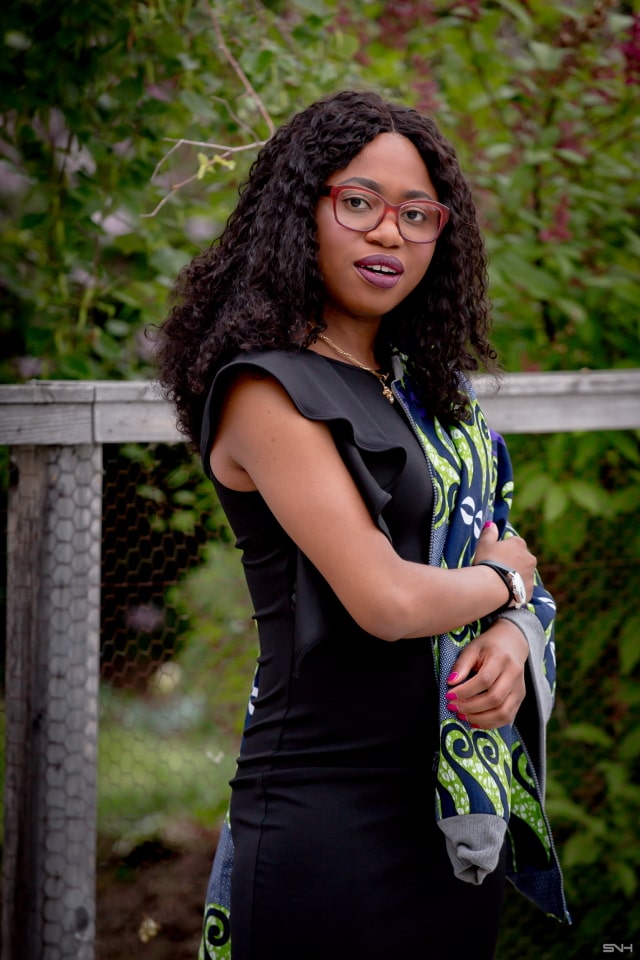 If you want the same reversible bomber with a different fabric, I recommend contacting Boriah Clothiers for a custom quote. To be honest, the ankara jacket is not cheap, but it's well worth every penny (and then some). Surely, hand-making a complicated reversible bomber comes with a price tag.
THE BEST SELECTION OF ANKARA JACKETS ON AMAZON
If you're on a tight budget, you can check out these affordable options on Amazon. Read the reviews and product description before placing your order.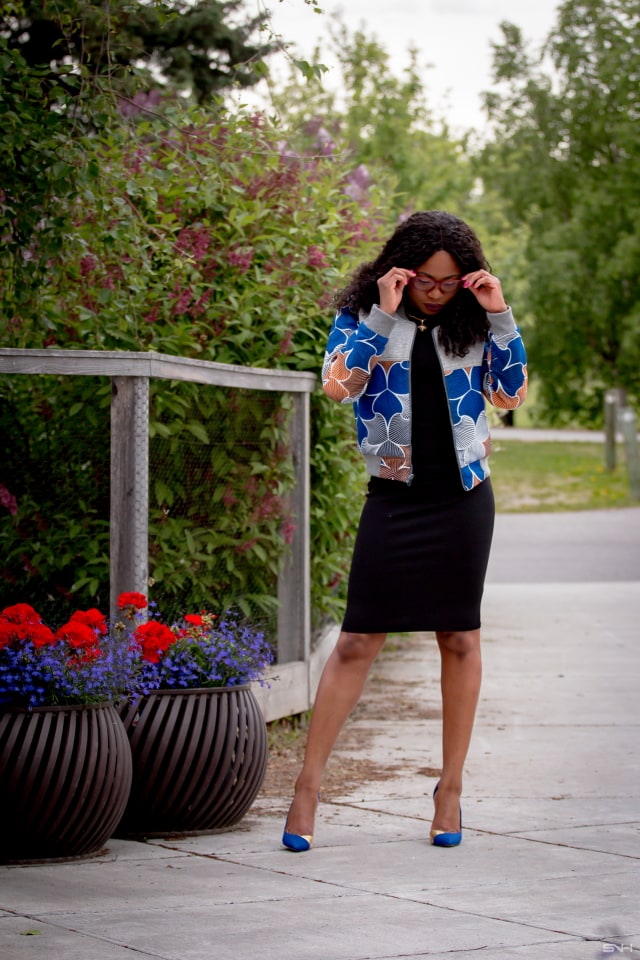 And ensure that the ankara bomber is made of 100% cotton material, which is what 99% of African print clothes are made out of. Amazon is my last resort when looking for African print clothes. Just can't trust some sellers!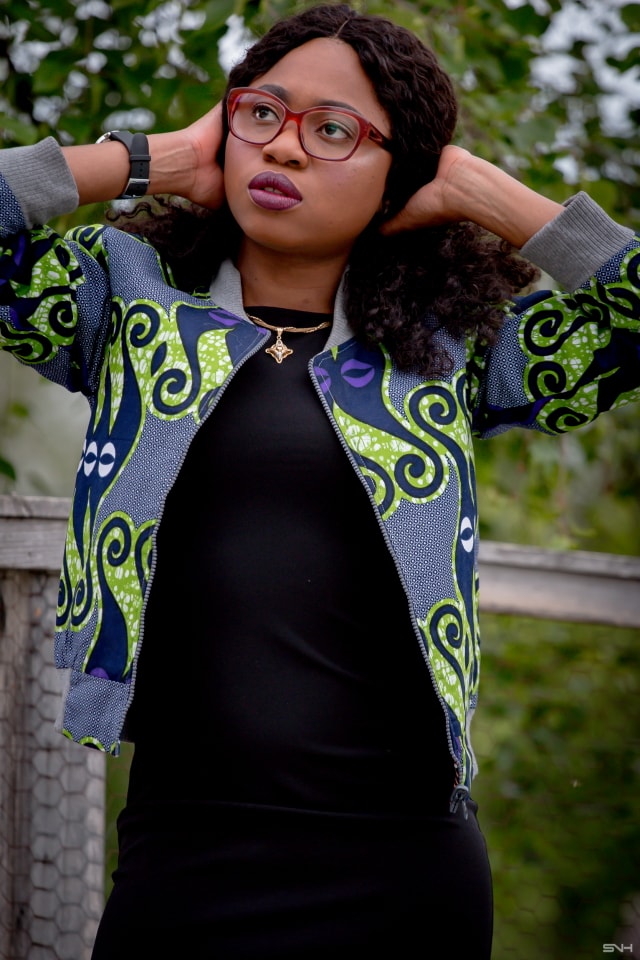 I prefer to shop for my African print clothes on Etsy or on the individual seller's website. As with Amazon, I employ you to read reviews and seller ratings before ordering.
YOU MIGHT LIKE THESE AFRICAN BOMBER JACKETS
Unlike Amazon, Etsy is the hub for handmade items. And African clothes are no exception.
Click on Image to Shop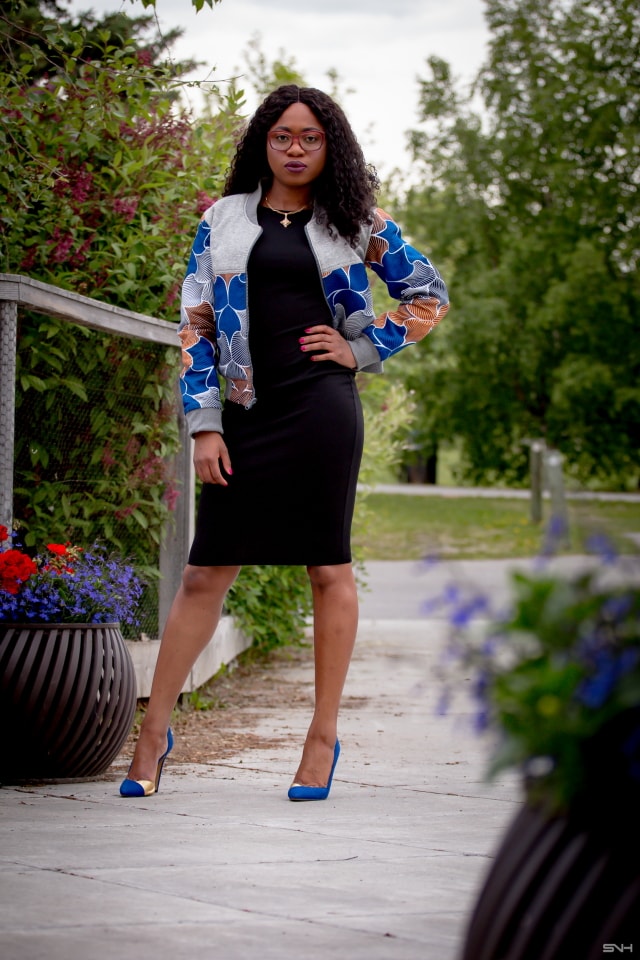 HOW TO SEW AN ANKARA JACKET
And if sewing African styles from scratch is right up your alley, props to you. Check out this step by step ankara jacket tutorial video made by my friend, Kim Dave, to guide you through the process.
As for the rest of my outfit, I'm wearing a fitted midi dress. This dress sold out a while ago, but I found this close alternative for you. My blue and gold two-tone heels are also from a few years ago. Sadly, I can't find a similar two-tone option. Maybe this colorblock heels might work?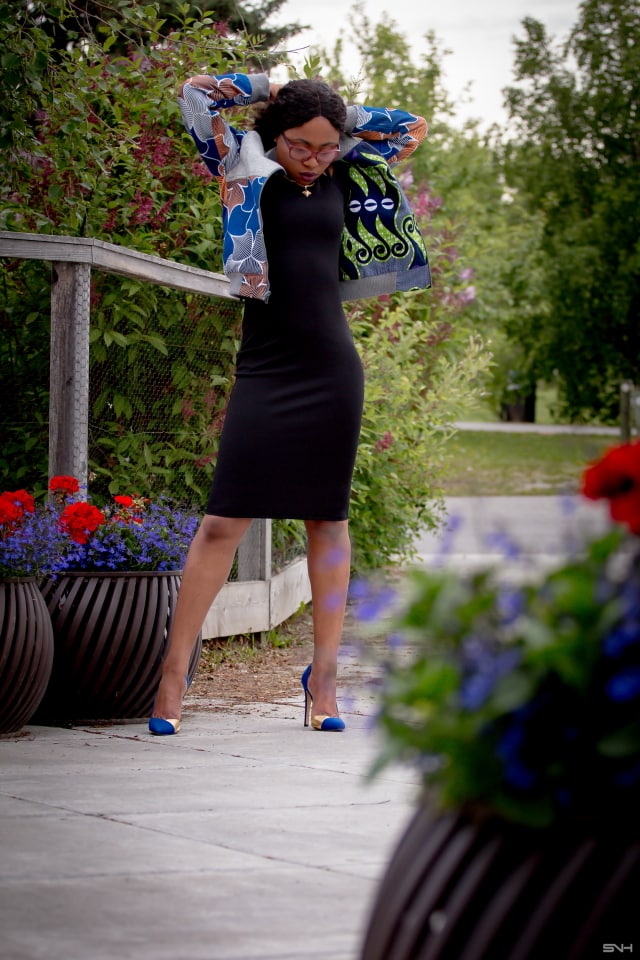 I hope you love this outfit as much as I do. As always, thank you so much for reading. Have a wonderful day!
I am wearing:
Fitted midi dress (similar)
Colorblock stilettos (similar)
Nokia activity and sleep watch (exact)
Boriah Clothiers Ankara Jacket (custom)
Photos by SNH Photos
Interested in more fashion posts? Check out these popular posts:
PIN FOR LATER!